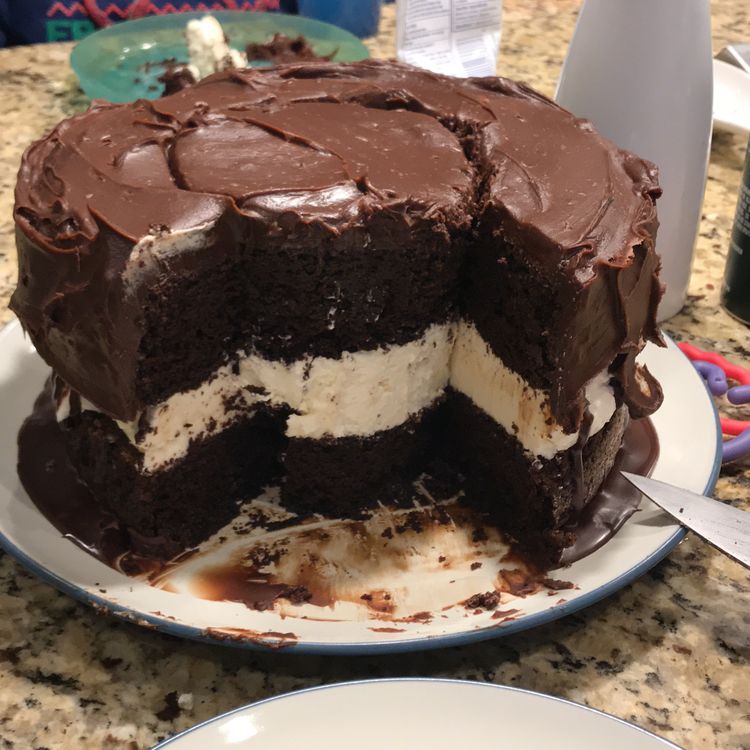 Inspired by the Hostess® favorite, the Ho Ho Cake features layers of cake and cream filling topped with chocolate.
I have made this recipe for years (but with a scratch cake). I also use the filling for almost every two layer cake I make. The key to this type of filling is that YOU MUST WHIP IT FOR 10 – 12 MINUTES.
I have been making this for years now. A few things. First I too use a good quality canned frosting (no it isnt a glaze as one person stated ) warmed until spreadable.
I figured out the cream filling! Here's how I made this cake: I used Duncan Hines Devils Food cake mix baking it in a large cookie sheet. Cool and put in freezer for about 10 minutes. Cut in half put half on your cake plate.
everyone loved it. i thought there were too many steps and time consuming to cool. i liked the suggestion of another member to use canned frosting that has been slightly melted in microwave.
I added two tsp of pure vanilla to the cream part and it was excellent. Great compliments!
Ingredients :
The cake :
2 large spoon vinegar
2 small spoon vanilla
2 cups cold water
2 cups granulated sugar
3 cups flour
5 large spoon cocoa powder
1 small spoon baking soda
A pinch of salt
9 large spoon vegetable
Cream filling :
1 small spoon vanilla
1 cup butter, softened
1 cup flour
1 cup cold milk
1 cup sugar
Chocolate frosting :
1 small spoon vanilla
3 cups powdered sugar
9 large spoon butter, melted
5 large spoon cocoa
2 large spoon hot water
Instructions :
1 – Preheat oven to 350 a degrees . In a large bowl, beat together the flour/ cocoa/ baking soda/ and salt . Add the remaining ingredients and beat until soft . Pour into a greased 9 x 14 inch baking pan. Bake for 31 min .
2 – Let cool totally . And start the cream filling. Beat the flour / cold milk in a pot . Cook over low heat until gushing and heavy . When cool, add the sugar /vanilla / butter, whisk until soft . Sprinkle onto the cooled cake.
3 – To create the frosting. Whisk the butter/ cocoa/ hot water/ vanilla/ powdered sugar .
Sprinkle frosting on cream filling . let it for 31 min before serving.
SERVER & ENJOY !!