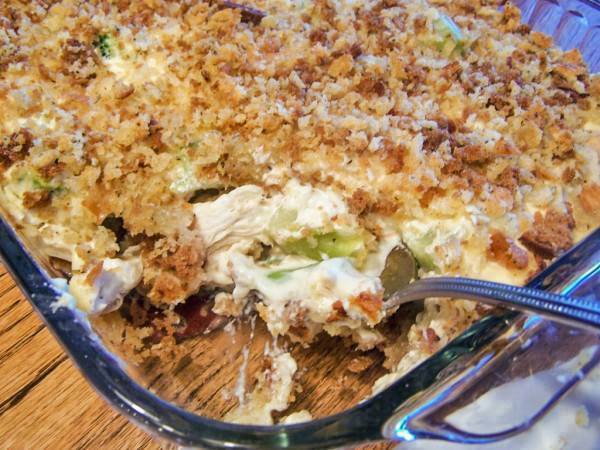 My Company Chicken Casserole is one of those kinds of dishes that you cook when you need some good old fashioned comfort food. It's creamy, it's warm, and it hits all the right spots. This casserole dish is fairly easy and inexpensive, and is fabulous to serve for the family, or when you have company over. I grew up eating this Chicken Casserole, and it was always a hit. It is titled "Company Chicken Casserole" because it was often a dish my mom made when we had company over. Serve with or without broccoli – tasty either way!
Ingredients:
4 boneless skinless chicken breasts
1 cup chicken broth
2 cloves garlic
2 wedges of onion
4 cups Pepperidge Farms Herb seasoned stuffing mix
1 cube butter (1/2 cup)
1 can Cream of Chicken soup
1 pint sour cream
8 oz frozen broccoli cuts – thawed (optional)

Instructions

Place chicken breasts, broth, garlic and onion in a skillet and bring just to a boil over medium high heat, turn heat down to medium, cover and simmer until pink is gone – about 15-20 min.
Remove the chicken and shred with a fork and set aside. Reserve the broth (this should equal about 1 cup, but if it doesn't add enough canned broth to equal a cup).
Melt the butter and pour over stuffing mix in a bowl and whisk with a fork to blend.
Spread half of the stuffing/butter mixture in a large casserole dish or glass 9 x 13" pan.
Blend the soup, sour cream and reserved broth together with a wire whisk.
Place shredded chicken over the layer of stuffing mix. If using broccoli, spread this over the chicken.
Pour the soup mixture over the chicken, then top with the remaining stuffing mixture.
Bake for 30 min at 350°.
Serve and enjoy