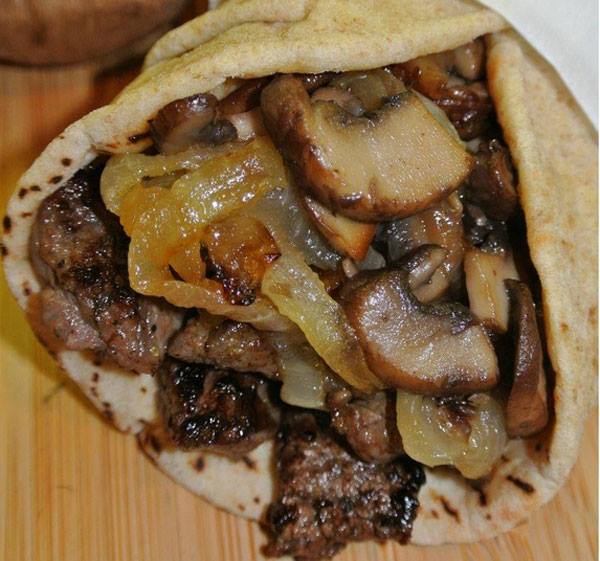 A local fast food pita inspired me to make my own Greek style sandwiches at home. Add olives if you wish.
I'm not kidding! Whenever I ask my husband what he wants for dinner, he always tells me Greek steak pitas. I could probably get by making this meal 3 or 4 times a week. If you like steak, you have to try this one.
I've been enjoying Greek flavours lately and I wanted an easy and healthy but tasty dinner. I marinated a flank steak, made a cucumber tzatziki sauce and marinated red onion. I mixed everything together in a pita with lettuce, tomatoes and feta cheese. I served it with hummus and fresh vegetables for a very delicious dinner that we all enjoyed very much.
Grilled flank steak pita wraps are the perfect recipe for a summer dinner! They are topped with fresh vegetables and topped with a homemade Greek yogurt sauce! They are a must for a quick meal during the week or for a picnic or dinner on the weekend!
Hello, readers of Belle of the Kitchen! I hope you are all having a wonderful summer! My name is Justine and I'm the blogger for Cooking and Beer, where I marry my favourite dishes with the best homemade beer I can find. I was super excited when Ashlyn asked me to do a post for her. Her recipes make me hungry all the time, so I obviously jumped at the chance to contribute!
I don't know about you, but I've been obsessed with grilling lately. I've probably done it before. From sweet potatoes to chicken, eggplant to pork chops, I never get tired of standing next to a hot grill. Those pita wraps with grilled flank steak are one of my latest obsessions, and the reasons go way beyond grilled flank steak!
Ingredients
1 to 1 1/2 pound top sirloin, cut into thin strips
1 teaspoon dried oregano
1 teaspoon Cavender's All Purpose Greek Seasoning
1/2 teaspoon of salt and pepper
2 large onions, sliced
8 young fresh portabella mushrooms, sliced
2 tablespoons of butter
5 tablespoons of olive oil or canola oil, divided
Pitas
Directions
For onions – Heat a skillet over medium-low heat. Add butter and 2 tablespoons of oil.
Once the butter has melted, add the onions. Stir frequently.
The onions should cook for at least 30 minutes.
If the onions begin to brown too early, you may need to adjust the temperature.
The key is low and slow.
While the onions are cooking, move on to preparing and cooking the steak.
For the steak – Combine steak slices, oregano, cavender, salt and pepper in a ziploc bag.
Mix until the seasoning evenly coats the steak.
Heat 1 tablespoon of oil in a cast-iron skillet over medium-high heat.
Sear steak slices in batches for 1 to 2 minutes on each side, depending on how you like your steak.
Do not overcrowd the pan. Add 1 tablespoon of oil if the pan begins to dry.
Once the steak is cooked, toss your mushrooms in the pan and sauté until tender.
Assemble the pitas with the steak, onions and mushrooms.