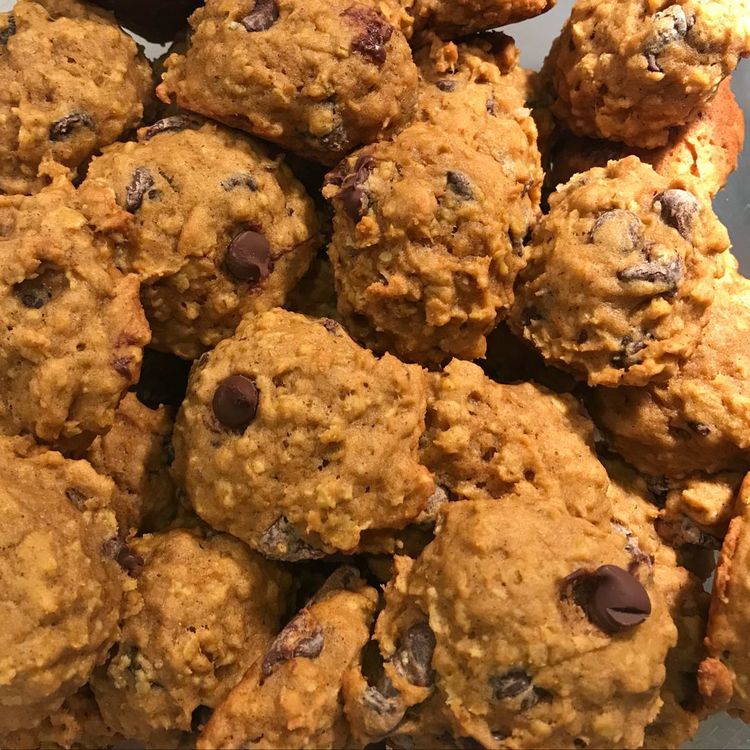 Excellent moist chocolate chip cookie with oatmeal and mini chocolate chips.
I was looking for a pumpkin pie cookie that wasn't so cakey – this is it!! Everyone (including my pumpkin hating boyfriend) loved them! I followed the recipe almost exactly
The pumpkin is a great way to add a tasty twist to a classic. They were easy to make and so yummy! I added crushed walnuts to give it a little crunch. The original recipe made amazingly soft sweet cookies!
This was so tasty! I halved the recipe so here are some tips if you also don't want to make 6 dozen cookies. When you half the recipe, still use a whole egg and use a little less than a half a teaspoon of salt. So delicious.
INGREDIENTS :
1 ½ cups butter, softened
2 cups packed brown sugar
1 cup white sugar
1 (15 ounces) can pumpkin puree
1 egg
1 teaspoon vanilla extract
4 cups all-purpose flour
2 cups quick-cooking oats
2 teaspoons ground cinnamon
2 teaspoons baking soda
1 teaspoon baking powder
1 teaspoon salt
2 cups miniature chocolate chips
INSTRUCTIONS :
Step 1: Prepare the oven and preheat to 190 degrees C or 375 degrees F.
Step 2: In a medium mixing bowl, add in the white sugar, brown sugar, and butter. Beat until well mixed.
Step 3: Add in egg, vanilla extract, and pumpkin. Beat until well mixed.
Step 4: In another mixing bowl, add in oats, flour, baking powder, baking soda, and salt. Stir until well blended.
Step 5: Transfer the mixture into the bowl with the butter. Stir until well combined.
Step 6: Stir in the chocolate chips. Spoon the batter and drop them on the prepared baking sheet.
Step 7: Place inside the preheated oven and bake for 10 to 12 minutes or until the color of the cookies turn brown.
Step 8: Remove from the oven and let it sit at room temperature to cool.
Step 9: Serve and enjoy!