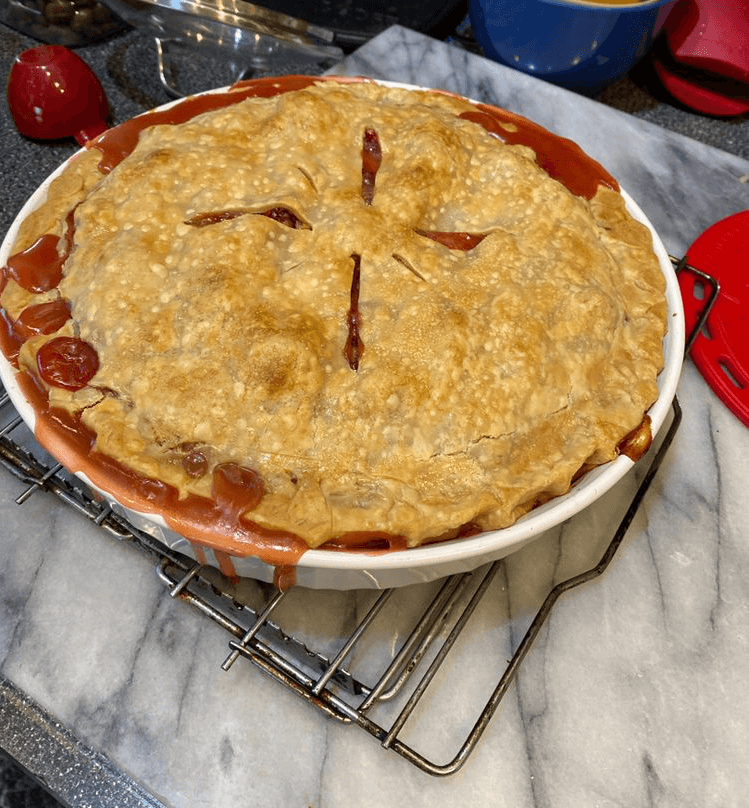 Hard to find the best recipe for rhubarb pie but this one is foolproof! Grandma said so! If you never tried to make this before
it's easy and so delicious. The Strawberries and Rhubarb are the perfect match for this pie. A little tart and a little sweet.
The Best Pies
Of course growing up you always remember grandma making the best of everything.
This is one pie that stands out in my mind because everything from crust to pie filling was made from scratch.
It was a rich in flavors and a labor of love making this pie!
To this day all I can think of is her rolling the dough and me anxiously waiting to get that pie out of the oven!
Of course, you can just make a whole top crust, if you don't want to get fancy with lattice!
CRUST:
2 cups all-purpose flour, plus additional flour as needed, up to 1/4 cup
1/2 cup cake flour (recommended: Soft As Silk)
3 teaspoons sifted powdered sugar
1/2 cup butter-flavored shortening (recommended: Crisco)
1/4 cup salted butter
Pinch salt
1 egg
2 teaspoons vinegar
1/4 cup ice cold water
FILLING:
2 1/2 cups chopped red rhubarb, fresh
2 1/2 cups de-stemmed, washed and cut strawberries (in larger pieces)
1 1/2 cups sugar (1 1/4 cups for high altitude)
2 tablespoons minute tapioca
1 tablespoon all-purpose flour
1/2 teaspoon lemon zest
1/2 teaspoon lemon juice
1/2 teaspoon ground cinnamon
1 teaspoon vanilla extract
3 tablespoons butter, cubed small
1 egg white beaten with 1 teaspoon water
Large granule sugar