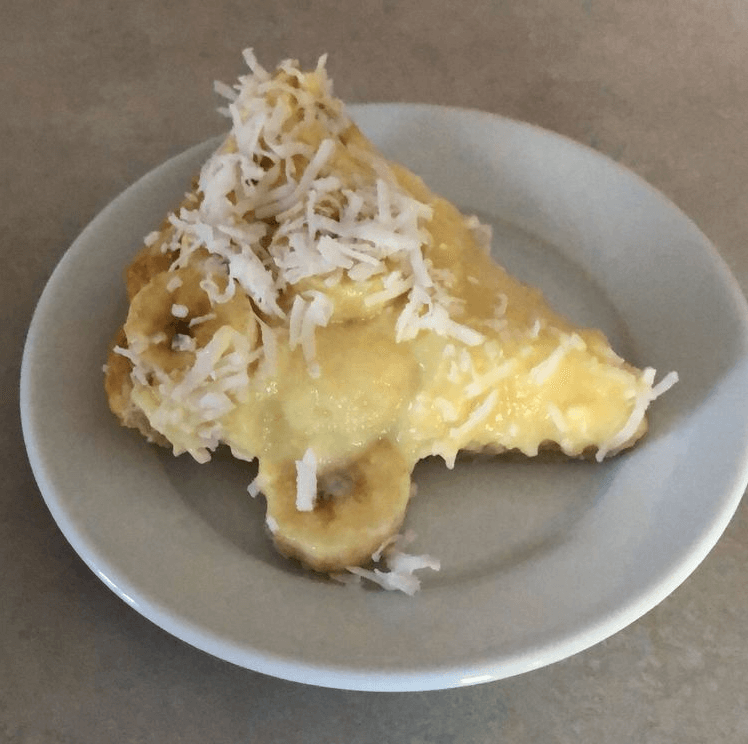 When we think of cream pies banana and coconut are the first ones that cross our mind and, while we love them both, we don't typically make them ourselves. Maybe it's that our memories associated with a good cream pie are ones from state fairs we grew up going to or the diner by our old house that always had the best pies, but we realized we hadn't really tried our hands at making a banana cream pie…which we obviously had to remedy immediately.
Instead of making a from-scratch dough and baking it in the oven, we decided to go with an easy graham cracker crust here. You could just as easily grind up a package of nilla wafers and make your own, but being one step closer to our banana cream pie by going with the store-bought graham cracker crust sounded better to us at the time, so we went with that. Next comes the making of our banana cream filling; you're going to start by mixing up a package of banana pudding. Separately, beat the cream cheese until it's nice and fluffy, then mix in the condensed milk and add in the banana pudding. That's it, easy breezy!
Make a base layer of banana slices in your graham cracker crust, then pour in the banana cream filling! Whether you decide to make your own whipped cream or you go with some frozen whipped topping is up to you, just top this bad boy with whichever you choose and pop it in the fridge to set. When you're ready, slice into it and prepare to be amazed. This dessert tastes so, so good, just like how we remembered it, and it came together so easily! It's great for any party or celebration – or for those night when you're making it just because, and everyone will love it…you'll see!
15 minutes active; 2+ hours inactive to prepare serves 8-10
INGREDIENTS
Store-bought graham cracker crust
1 (3.4 oz.) package banana cream instant pudding
1 cup whole milk
4 oz. cream cheese, room temperature
1/2 cup sweetened condensed milk
1 1/2 cups frozen whipped topping, thawed, plus more for topping
2-3 large bananas, sliced
PREPARATION
In a medium bowl, whisk together banana pudding mix and milk until combined and smooth.
In a separate, large bowl, beat cream cheese until fluffy, then mix in condensed milk.
Fold pudding into cream cheese mixture, then mix in frozen whipped topping until fully incorporated.
Take sliced bananas and place them in an even layer in cooled pie crust, filling any spaces with smaller banana slices, if needed.
Top with filling and spread in an even layer, then top with frozen whipped topping or whipped cream.
Place in refrigerator and let set.
Slice and serve topped with bananas. Enjoy!