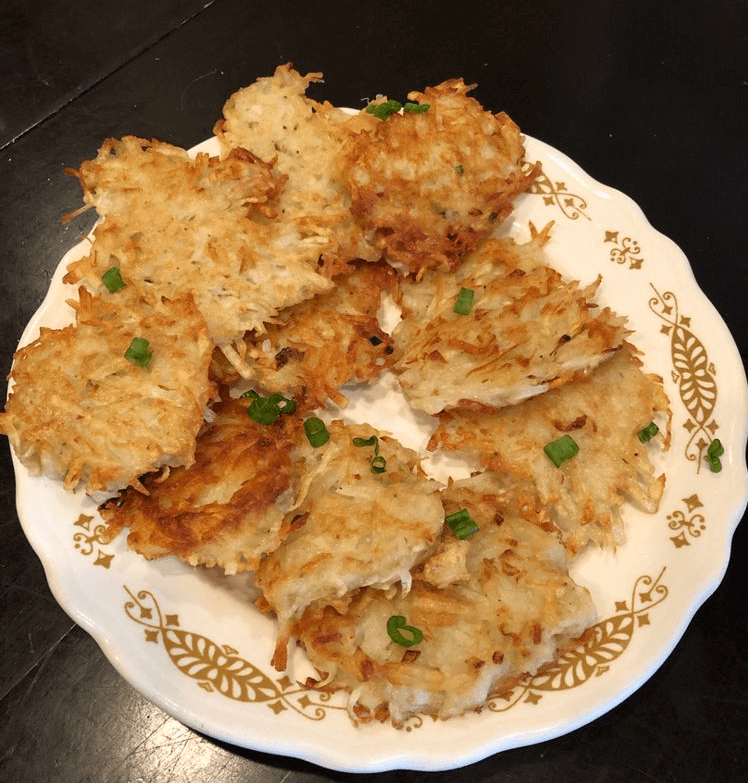 This is the real potato pancake (no Latke). We usually serve them on Friday evenings (especially during Lent) with potato soup, bread and butter, the pancake being covered with the traditional granulated sugar with applesauce on the side. We are a German-Polish family. Leftovers were taken in sandwiches with butter, salt and pepper for lunch. Don't worry about the discoloration… it is part of the pancake and is not noticeable after being fried. When a large family hand grates 5 pounds of potatoes, discoloration is not a problem… Don't spend a lot of time and don't bother to dry the potatoes, just drain them in a colander and the flour takes care of the rest. If a little flour drips from the pancake into the frying pan, it will only add a nice crispness to the edge. ENJOY. Our family has been doing this for over 100 years.
Ingredients
2 1/4 cups coarsely peeled potatoes, coarsely grated
1/2 cup sliced green onions
1/3 cup flour
1 egg
1/2 teaspoon salt
A pinch of pepper
Itinerary
Combine all the ingredients. Heat 2 tablespoons of oil in a hot frying pan.
Pour the batter (1/4 cup at a time) into the oil. Spread to flatten. Fry on one side, then turn over to fry on the other side.
Alternatively, you can add less onion and a little chopped apple instead.