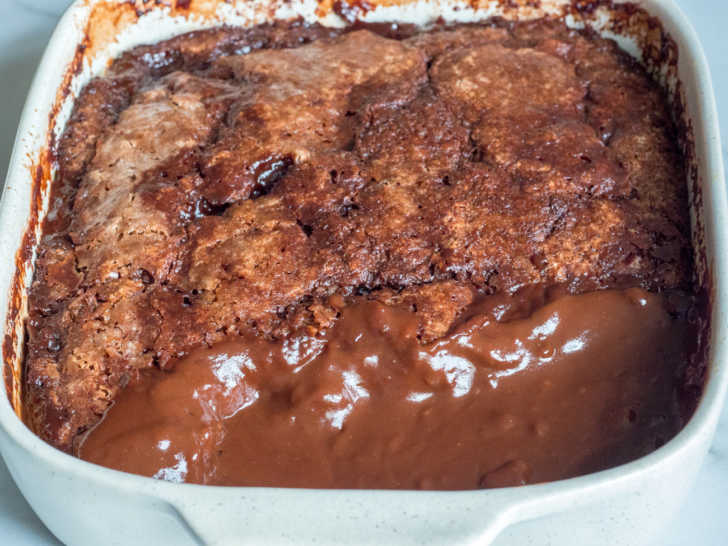 When you think of cobbler, you probably think of bubbly saucy fruit topped with a sweet biscuity batter, so fudgy chocolate doesn't immediately come to mind. But with its ooey-gooey molten bottom and cakey chocolate top, this old-fashioned Southern Chocolate Cobbler definitely fits the cobbler parameters. It's a similar combination of textures, there's just no fruit to be seen. Just oodles of rich chocolate, which is always good news.
You can think of this like an early answer to a molten lava cake, only it's much easier to make! You start by melting butter in a baking dish in the oven…
You sprinkle the top with cocoa powder and sugar and pour boiling water over the entire thing (without stirring it!) and pop it in the oven, and while it bakes the layers naturally form. So you have a somewhat crispy, cakey top…
FOR THE BATTER:
1/2 cup unsalted butter
1 1/2 cups granulated sugar
4 tablespoons unsweetened cocoa powder
2 cups all-purpose flour
2 teaspoons baking powder
1/4 teaspoon salt
1 cup milk
2 teaspoons vanilla extract
FOR THE TOPPING:
2 cups granulated sugar
1/2 cup unsweetened cocoa powder
3 cups boiling water
Vanilla ice cream, for serving
PREPARATION
Preheat oven to 350°F.
Place butter in a 9×13-inch baking dish and put in oven. Once butter has melted, remove and set aside.
Stir together the 1 1/2 cups sugar, 4 tablespoons cocoa powder, flour, milk, baking powder, salt, and vanilla extract. Spoon into baking dish over melted butter, but do not stir.
In a separate bowl, mix together the 2 cups sugar and 1/2 cup cocoa powder. Sprinkle over batter in pan. Pour boiling water over topping, but again do not stir.
Bake until top has set, 35-40 minutes. The bottom will be loose and a bit gooey.
Let cool 15 minutes before serving. Enjoy!