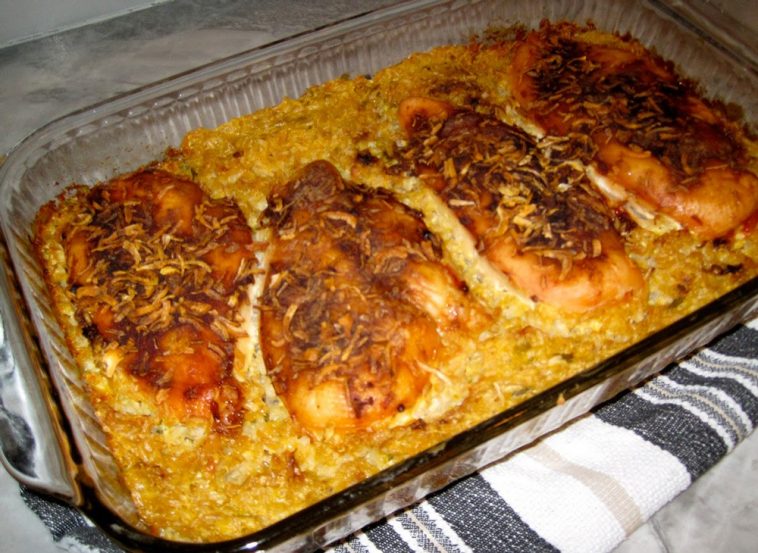 I'm not sure what "forgotten chicken" means, but when I came across this recipe, that was the first thing that caught my eye. After making it several times, I'm sure the name refers to the fact that you just throw everything in the casserole dish and forget about it! The oven really does all the cooking here.
Almost no prep work is required other than opening the cans. The flavor of the rice is incredible and the onion soup gives the chicken breasts the most delicious flavor.
Believe me when I say that you won't find an easier and tastier recipe.
Just imagine rice and chicken breast with cream of mushroom soup and cream of chicken soup. Nothing else is needed to make this dish taste good, and the best part is that you'll mix it up and forget it.
WHAT TO DO WITH THE FORGOTTEN CHICKEN?
All this recipe needs to be a complete meal is a salad or steamed vegetables. If you want to keep the calories low, steam some broccoli florets and carrot slices and you're done!
Ingredients
1 lb boneless, skinless chicken breasts
2 cups of Minute rice
1 can cream of mushroom soup
1 can cream of chicken soup
1 can of water (I use one of the soup cans)
1 envelope Lipton Onion Soup Mix
1 tablespoon butter
Instructions
Preheat oven to 350F
Grease a 9×13 inch baking dish.
In a medium bowl, combine the cream of mushroom soup, cream of chicken soup, Minute rice, and one can of water.
Mix well and pour into the prepared casserole dish. Arrange the chicken breasts on top of the rice mixture.
Sprinkle Lipton Onion Soup mixture evenly over chicken breasts.
Cover dish with foil and bake for 45 to 50 minutes, or until chicken is cooked through.