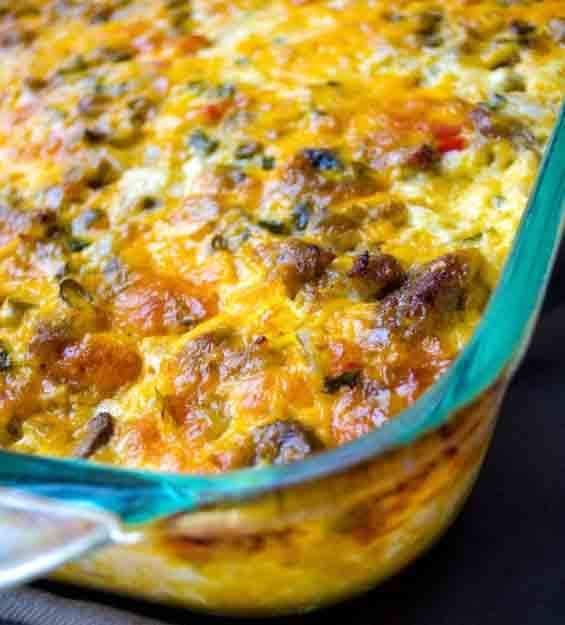 If you're searching for a hearty and delicious dish that will feed a hungry crowd for breakfast and that doesn't require you waking before the sun to get it on the table in time, your search is over. This Fireman's Overnight Breakfast Casserole does all of the above, and with a whole lot of flavor packed in.
Why is it named the way it is? Well, we suspect that it's just the sort of breakfast that works perfectly at a firehouse. You mix everything up the night before, set it in the fridge to chill overnight, and pop it in the oven in the morning. And then wham – hot, meaty, cheesy, filling breakfast on the table for a whole hungry crew without any A.M. effort
As far as breakfast casseroles go, this is kind of a unique one. There are no hashbrowns or home fries or biscuits involved. Just a whole lot of protein from eggs and sausage and cheese and a medley of flavorful veggies. (Which means it's a great option if you eat low carb, and it'll keep you full all through the morning.) It's definitely a powerhouse of a breakfast.
You start by browning up the sausage and the veggies and setting them aside to cool. And then you make the gravy… oh, did we mention there's gravy involved? Country Gravy, made with sausage drippings. Yup. It's the perfect companion to this hearty dish. And we promise it reheats really well the next day, so don't fret about making it ahead.
You crack a dozen eggs into a large baking dish. You don't beat them, stir them, or scramble them… you leave them whole. (Look, we got a double yolker!) Then, you take a toothpick and poke a hole in the top of each egg before pouring cream over the top. The eggs bake up similar to hardboiled eggs, but the cream adds an eggcellent creamy touch.
From there, you sprinkle over a generous layer of cheese, top that with the sausage and veggies, and then even more cheese. (This dish is unapologetically cheesy. And we love it for that reason.)
You end up with a beautiful colorful swirly, layered casserole that you then cover with foil and set in the fridge until the morning arrives.
When it's time to feed your crew, you just bake this up…
It's zesty, it's hearty, and it'll make a whole horde of hungry folks happy. While those attributes are enough to make it a repeat recipe around here, we are totally in love with the fact that it doesn't require an early morning wake up call. So the next time you've got an army around your table in the morning, serve this and catch a few more zzz's. You'll have a happy crowd, and you'll be happy too.
Overnight Breakfast Casserole
30 minutes active, 24 hours inactive to prepare serves 8-10
INGREDIENTS
For the casserole:
1 pound ground breakfast sausage
4 cups sharp cheddar cheese, grated
12 eggs
1 large onion, chopped
1 red bell pepper, chopped
1 cup heavy whipping cream
1/4 cup green onion, chopped (1/2 cup?)
8 oz sliced mushrooms
Kosher salt and freshly ground pepper, to taste
For the gravy:
2 cups milk
1/4 cup all-purpose flour
1-2 tablespoons butter or oil
Kosher salt and freshly ground pepper, to taste
PREPARATION
When ready to bake, preheat oven to 350°F. Lightly grease a 9×13-inch baking dish and set aside.
In a large skillet over medium heat, add the sausage, breaking it up with a wooden spoon. When meat has begun to brown, add onions, mushrooms, and bell pepper to the skillet and cook until vegetables have softened and meat is cooked through, 6-7 minutes. Stir in green onion and remove meat and vegetables from skillet and set aside to cool. (Do not drain skillet.)
While meat and vegetables cool, make the gravy:
Add butter or oil to undrained skillet. Once melted, whisk in flour and allow to cook for 2 minutes.
Gradually whisk milk in and cook until gravy thickens. Simmer 2-3 more minutes and season with salt and pepper. Cover and set aside (or put in a container to chill overnight).
In the prepared baking dish, crack eggs evenly across the bottom of the dish, keeping yolks intact. Poke a hole in each yolk with the toothpick and pour cream over the top of the eggs. Top with 1/2 of the cheese.
Spoon sausage mixture over the eggs and cream in the baking dish and then top with remaining cheese. Cover dish with foil and chill overnight.
Bake covered in preheated oven for 30 minutes. Remove foil and bake 30 minutes more. Serve with country gravy, and enjoy!
To reheat gravy: Put gravy into a microwave-safe container. Add a little bit of milk to loosen the gravy and heat in 45 second intervals, stirring in between, until gravy is hot. You can also heat over medium heat on the stovetop, thinned with a little bit of milk.