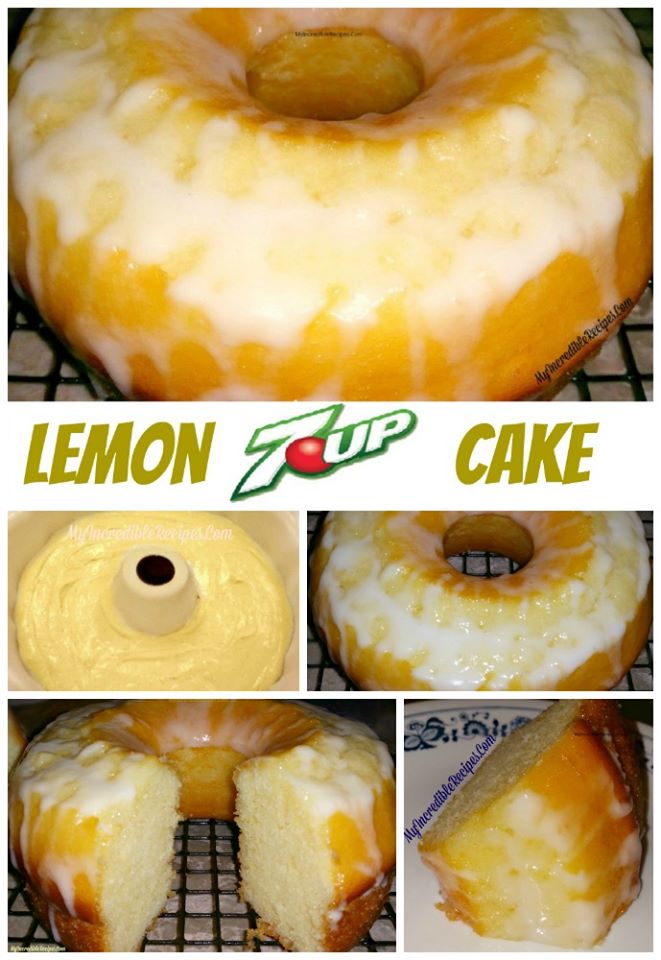 Whenever I make any type of bundt cake, I always think of the movie, My Big Fat Greek Wedding. I just love that movie. "What do you mean he don't eat meat?" "Oh, that's okay, I make lamb." There is a scene where Ian's Mom brings Toula's family a bundt cake. Toula's family has never heard of a bundt cake before. "There's a hole in this cake." For the life of her, Toula's Mom cannot figure out how to say it properly. "Boont? Bonk?" She finally decides just to put flowers in the middle where the hole is and leave it at that. So needless to say, ever since I've seen that movie, I can't help but giggle when I pull out the bundt pan to make this 7Up Cake
Recently I shared my recipe for Coca Cola Cake and then I realized, I couldn't share the Coca Cola Cake without also sharing the 7-Up Cake.The 7-Up Cake is similar to the Coke Cake in that you don't really taste the soda as a separate ingredient. It adds flavor and makes it super moist.
You could eat this bundt cake without any icing, it is just so incredibly flavorful and moist but I think the slightly tart icing gives the sweet cake a nice pop of flavor. I just love making desserts like this during these cold days of winter. This 7-Up cake is so sunshine-y and the flavors remind you of a tall glass of cold lemonade.
To Make this Recipe You'Il Need the following ingredients:
Ingredients
From Scratch Ingredients:
5 eggs

3 cups flour
3/4 lb butter, softened (3/4 LB of butter equals 3 sticks)
3 cups sugar
2 tablespoons lemon Juice (real or squeeze kind is fine) or extract if you want a deeper lemon flavor
3/4 cup carbonated lemon-lime beverage, any brand
Ingredients using Box Cake Mix
one box of yellow cake mix
4 eggs
3/4 cup of vegetable oil
1- 4 ounce box of instant lemon pudding
3/4 cup of carbonated lemon lime soda of your choice/any brand
1 cup powdered sugar
2 tablespoon lemon juice
1 teaspoon of milk
Instructions
Mix butter and sugar together for about 10 minutes.

Add in your eggs-1 at a time, beating after each is added in.
Add in flour and lemon extract/juice.
Fold in your lemon-lime soda of choice.
Pour into well-greased 12-cup Bundt pan
Bake at 325 degrees for 1 to 1 hour & 15 min or until fully set
Remove from oven and transfer to wire rack to cool, then drizzle your glaze on top
ENJOY!
Directions using Box Cake Mix
Preheat your oven to 325F
Grease your bundt pan
In a separate large bowl combine all the cake ingredients, plus pudding ans the soda and mix well
pour the mixed batter into the greased bundt pan
Bake for about 45 to 55 minutes or until set
allow to cool completely before removing from the pan

top with Glaze

ENJOY!
Make Lemon Glaze-
Both recipes from scratch and from the box mix use the same easy, delicious glaze
Mix powdered sugar and lemon juice and milk together and drizzle on cooled cake one removed from the pan..