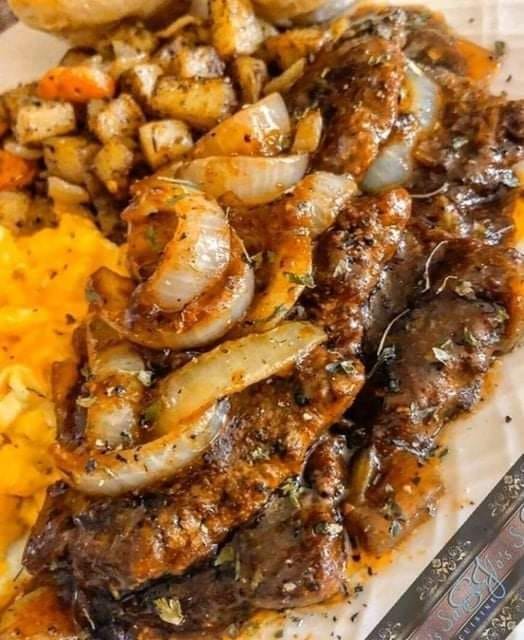 Cubed Steak with Onion Gravy is a quick and easy meal that is an economical way to serve beef to your family. Cubed steaks are coated in flour and pan-fried. This country-style steak is covered in a super flavorful onion gravy that gets lots of onion flavor from a large sliced onion and a packet of dry onion soup mix.
Ingredients
1 1/2 pounds cubed steak
1/3 cup flour
1/2 teaspoon garlic salt
1/2 teaspoon black pepper
1/2 cup Vegetable oil
1 large onion, sliced
1 (14-ounce) can beef broth
1 package dry onion soup mix
Instructions
Combine flour, garlic salt, and black pepper in a pie plate or shallow dish. Dredge both sides of cubed steak in flour mixture.
Heat oil in a large skillet (preferably cast iron) over medium-high heat. Add steak (cooking in 2 batches if necessary). Cook 5 minutes per side. Remove steak from skillet and set aside.
If you want to thicken the gravy some, add a few teaspoons of leftover flour from dredging the steak to the drippings in the pan.
Add onion, broth, and onion soup mix to the drippings in the pan. Use a wooden spoon to scrape up any browned bits stuck to the bottom of the pan.
Bring to a simmer and cook until onions are soft.
Return steak to pan to warm. Serve with mashed potatoes.