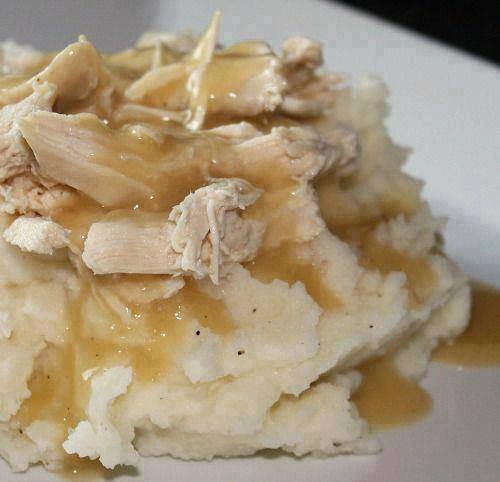 Crock Pot Chicken and Gravy is one of the easiest dishes to prepare with slow cooking time. Just a handful of ingredients, about 5 minutes preparation time and 6 hours in the pot, and you have a warm and delicious meal for your home.
For me, simple dishes are the most comforting, and this Crock Pot Chicken and Gravy couldn't be easier. It will remind you of dinner at your grandfather's house.
Sliced white meat chicken absolutely floats in a thick, rich and tasty Garvy. Serve it over white rice or mashed potatoes with a side dish of green beans or peas for a family meal like no other.
Ingredients:
2lbs boneless, skinless chicken breasts
14 ½ oz can chicken broth
2 packets of chicken gravy mix
Directions:
1. Place chicken breasts in the crockpot. Pour in the chicken broth, cover and cook on high for about 3 – 4 hours or until chicken easily pulls apart.
2. Pour 2 cups of the chicken broth/juices out of the crockpot and into a saucepan. Discard any remaining liquids. Add the two gravy packets into the saucepan and whisk well. Simmer on low until gravy thickens.
3. While the gravy simmers, remove the chicken breasts from the crockpot and shred into larger pieces. That's it! Serve with the gravy over the chicken. Yum!