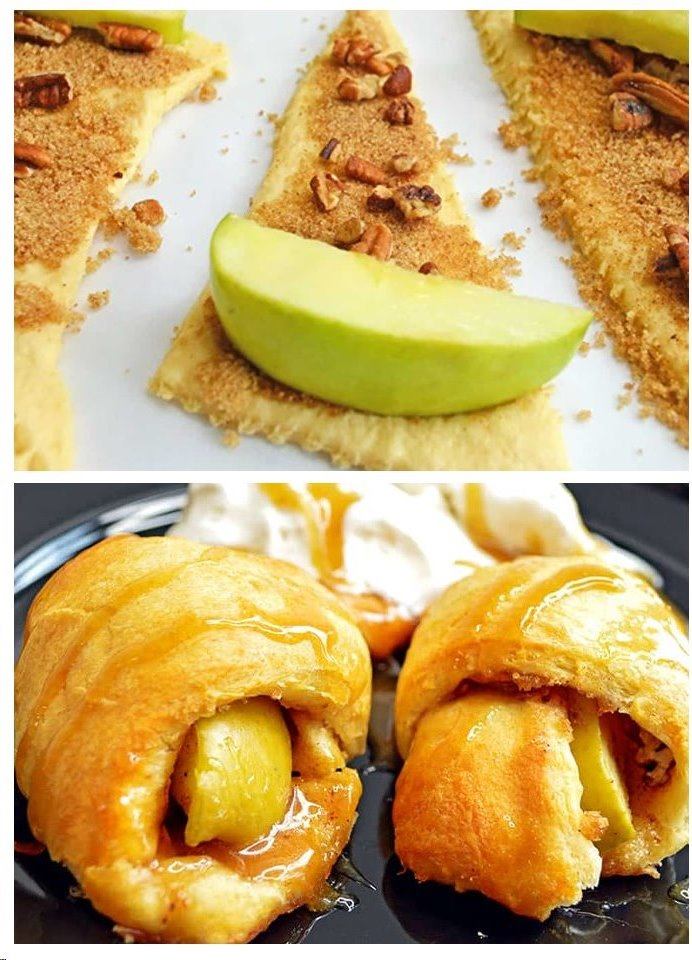 Apple Pie Bites are a sweet little treat when you don't want to bake a whole pie! Tart apples dipped in butter and rolled into crescents filled with fragrant apple pie spice, sweet brown sugar, and crunchy pecans; you'll love these incredibly easy-to-make pastries.
Ingredients
8 ct. crescent rolls
¼ cup light brown sugar, packed
½ tsp cinnamon
½ tsp nutmeg
4 tbsp butter, melted
¼ cup chopped pecans
1 granny smith apple cored and cut into 8 slices
Homemade Caramel Sauce ingredients:
1 cup light brown sugar, packed
½ cup butter
¼ cup milk
1 tsp vanilla extract
Instructions
Preheat your oven to 375 degrees.
Line a baking sheet with parchment paper, set aside. Lie down a sheet of parchment paper on your counter.
Roll out each of the 8 crescent rolls individually.
In a small bowl, whisk together brown sugar, cinnamon, and nutmeg. Add 2 tbsp of the cinnamon sugar mixture to each crescent and layer it evenly.
Divide the chopped pecans evenly between the crescents. Take your apple slices and toss them in the melted butter.
Add one apple slice to the wide end of your crescent roll, and roll it up towards the narrow end. Repeat for the remaining rolls.
Brush the tops of the rolls with melted butter and place onto your parchment covered cookie sheet.
Bake 9-10 minutes until crescents begin to turn golden brown.
Drizzle with homemade caramel sauce, and serve with vanilla ice cream.
Homemade Caramel Sauce directions:
In a small saucepan, bring brown sugar, butter, and milk to a boil.
Cook for 1-2 minutes, stirring constantly, until the caramel thickens.
Remove from heat and stir in vanilla.