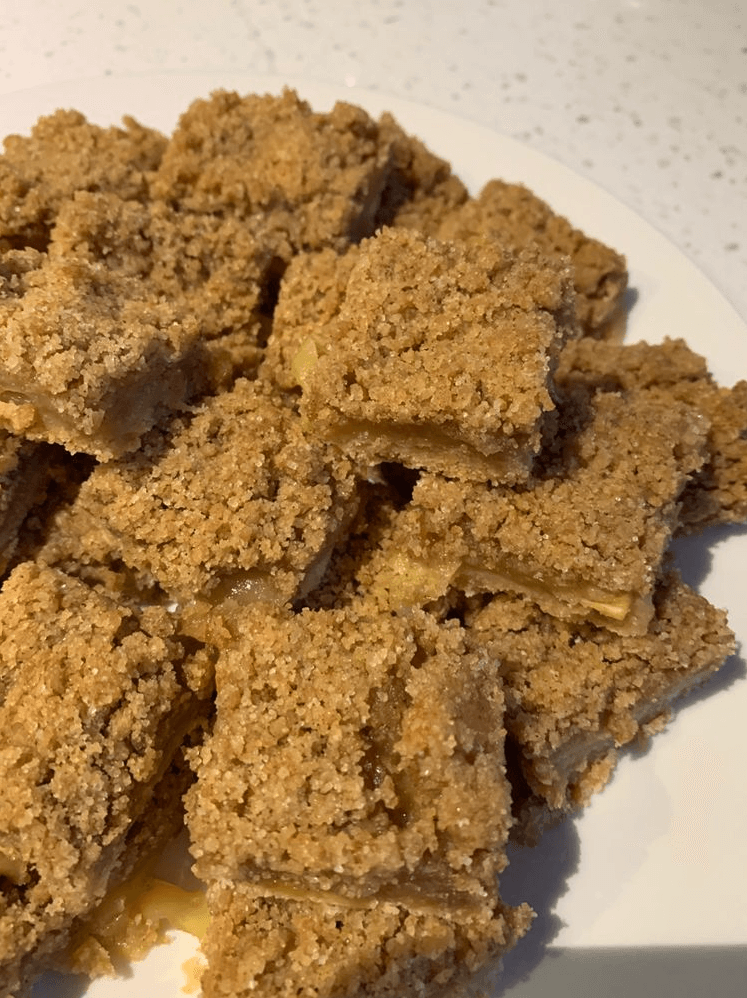 It seems like it's pretty close to impossible to find a person who doesn't like apple pie. There's just something about the combination of sweet and tender apples baked up with some cinnamon and sugar. It doesn't just taste good; it tastes like home, and comfort, and a little bit of love.
These apple pie bars have all of the things we love so much about apple pie – the taste, the comforting bite – but all in easy handheld form! They're much easier to whip up than an apple pie is, so we like to use these whenever we're craving a little apple pie flavor but don't want to go to the trouble of rolling out a crust. The kids love 'em, we love 'em, because what's not to love? They're easy and delicious, and they make everybody happy.
We find that the convenient square shape makes these bars perfect for a bake sale. Just individually wrap them and they're already portioned out to sell. Last time we brought them, they sold out super quickly! We think it helped to have an option that wasn't your standard chocolate chip cookie or basic brownie. These were a nice departure from the usual bake sale suspects.
These bars are really moist and we just can't get enough of the tender bite of apple and aroma of cinnamon spice. We hope you love them as much as we do!
INGREDIENTS
2 Granny Smith apples, peeled, cored, and finely diced
1 cup all-purpose flour
1/2 cup granulated sugar
1/2 cup (1 stick) unsalted butter
1 large egg
1 teaspoon vanilla extract
1 teaspoon ground cinnamon
1/2 teaspoon ground nutmeg
1/2 teaspoon baking powder
1/2 teaspoon baking soda
1/4 teaspoon ground cloves
1/4 teaspoon salt
PREPARATION
Preheat oven to 350°F and lightly grease a 9×9-inch baking dish. Set aside.
In a medium bowl, cream the butter and sugar together with an electric mixer on medium. Add the egg and beat until fluffy, 2-3 minutes.
In a separate medium bowl, sift together the flour, salt, baking powder, baking soda, cinnamon, nutmeg, and cloves.
Gradually add the flour mixture to the butter and sugar mixture, mixing on low until just incorporated. Fold in the apples.
Scrape the batter into the prepared dish and spread evenly. Bake until a toothpick inserted into the center comes out clean, about 50-55 minutes.
Let cool for 10 minutes before slicing and serving. Enjoy!