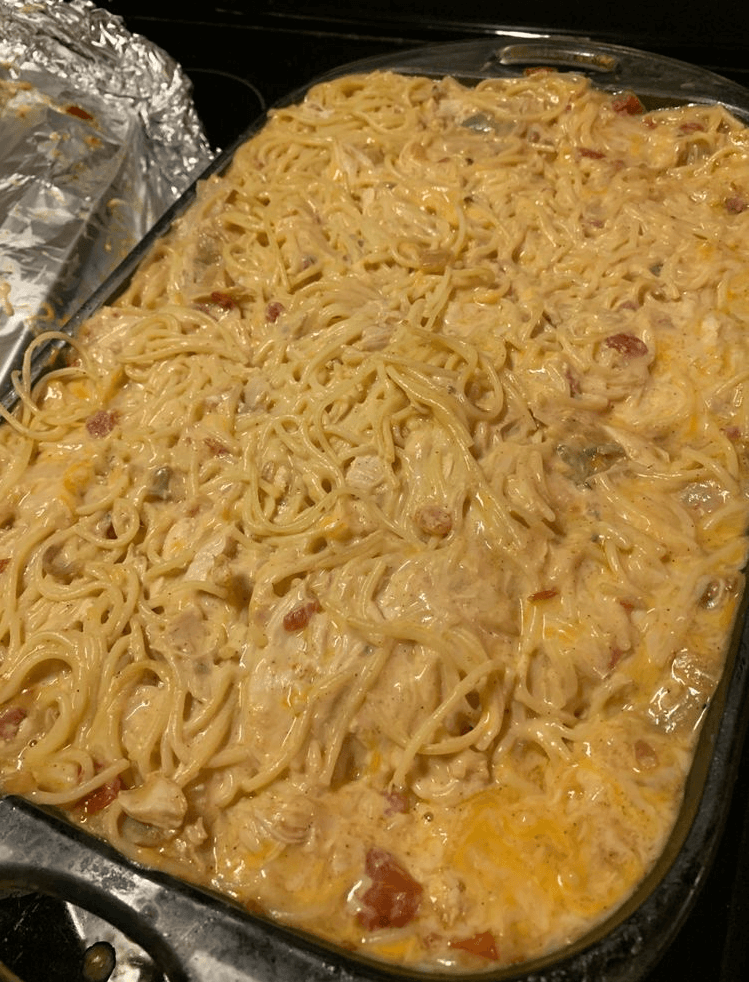 This is a great, comfort dish. My sister gave me the recipe and I tweaked it to fit my family's taste. My friends also request this when we have pot-luck dinners. Garnish with freshly grated Parmesan cheese and serve with a salad and hot garlic bread. You'll be a hit with everyone.
– I love chicken, and I love spaghetti and anything that contains both is a fantasy to me! This chicken spaghetti speaks for itself! Check it out.
– This is my go to recipe for chicken spaghetti now. So much easier than an older recipe I had and so much cheesier! I haven't had ANY complaints about it. I do certain tweeks to the recipe though (I brown the chicken chunks in a skillet for more flavor and boil the noodles in chicken stock and a Tbsp of chicken base and ALWAYS use red bell peppers). It goes fast in my family! We love it! Thanks again for this wonderful recipe!
You'll Need:
1 lb of boneless, skinless chicken breasts.
1 lb of Velveeta cheese.
1 can of Rotel tomatoes (regular or hot).
1 lb of spaghetti pasta.
1 stick of butter.
1 can of undiluted cream chicken soup.
1 can of undiluted cream mushroom soup.
1 medium chopped onion.
1 chopped bell pepper (red or green).
Salt and pepper.
How to:
In a large pot, boil chicken breasts with ½ tsp of salt and ½ tsp of black pepper.
Boil for 10 to 12 minutes then remove from the water.
In the same pot, boil the spaghetti pasta in the chicken broth according to package instructions.
Drain the pasta and discard the water.
In the same pot (empty) sauté the onion and bell pepper in melted butter. Add tomatoes, soup, the chicken (after cutting it to bite size pieces) and spaghetti. Mix together gently.
Add the cheese and gently mix well together. Add in salt and pepper for taste.
Heat until cheese is melted thoroughly stirring occasionally to keep from scorching.
Simple, easy and delicious! I usually garnish with freshly grated parmesan cheese and serve with a salad and hot garlic bread. Feel free to serve as you like!