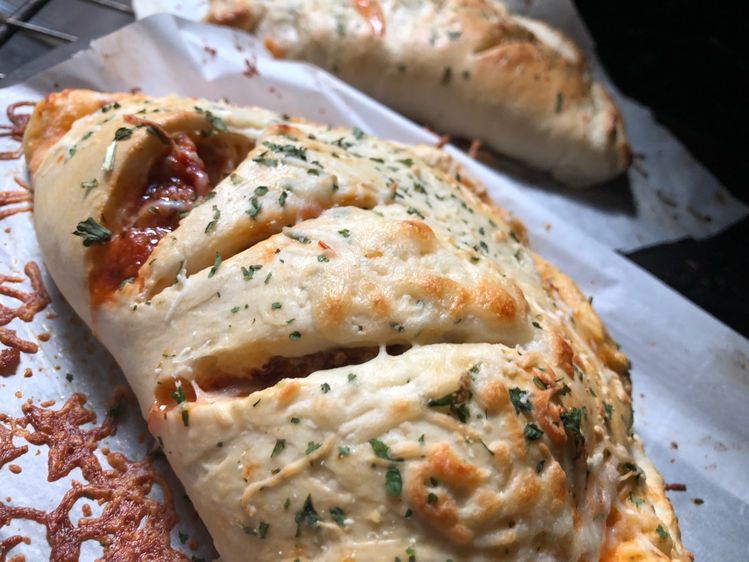 Easy Calzones make for a fun lunch or dinner. A calzone is like a stuffed pizza pocket, filled with all the classic toppings – meat, cheese, and your choice of sauce wrapped in Pizza Dough.
Prep a handful of these to have on hand throughout the week. They reheat really well and are perfect for packing work or school lunch.
Hi there! My name is Natalya and I run the blog Momsdish. If you already follow me, you know I can't get enough of easy meals that require simple ingredients. This recipe is no different. Trust me, you're going to love this homemade calzone recipe.
INGREDIENTS
2 loaves (1 pound each) frozen bread dough, thawed
1-1/2 cups (6 ounces) shredded part-skim mozzarella cheese
1/2 cup pizza sauce
50 slices pepperoni
1/2 cup chopped green pepper
1 egg, lightly beaten
1 pitted ripe olive, sliced and cut in half

DIRECTIONS
Roll out each piece of dough into a rounded triangle shape, about 14-in. high x 11-in. wide at the base of the triangle. Place each on a parchment-lined baking sheet with the tip of the triangle toward you. Lightly score 4-in.-wide rectangle in the center of the triangle 2 in. from the top and bottom.
On each long side, cut 1-in.-wide strips at an angle up to the score line, leaving a triangle in the top center of the wide end for the head.
Inside the scored rectangle in the center, layer the cheese, pizza sauce, pepperoni and green pepper. Shape the top center triangle into a head. Starting at the head, fold alternating strips of dough at an angle across filling stopping at the last strip on each side. Fold the bottom dough tip up over the filling, then fold the remaining two strips over the top; press down firmly.
Brush dough with egg. Cover and let rise for 15 minutes. For eyes, press 1 olive slice into each head. Discard or save the remaining slices for another use.
Bake at 350 ° for 25-28 minutes or until golden brown. Let stand for 5 minutes before slicing. Yield: 8-10 servings.