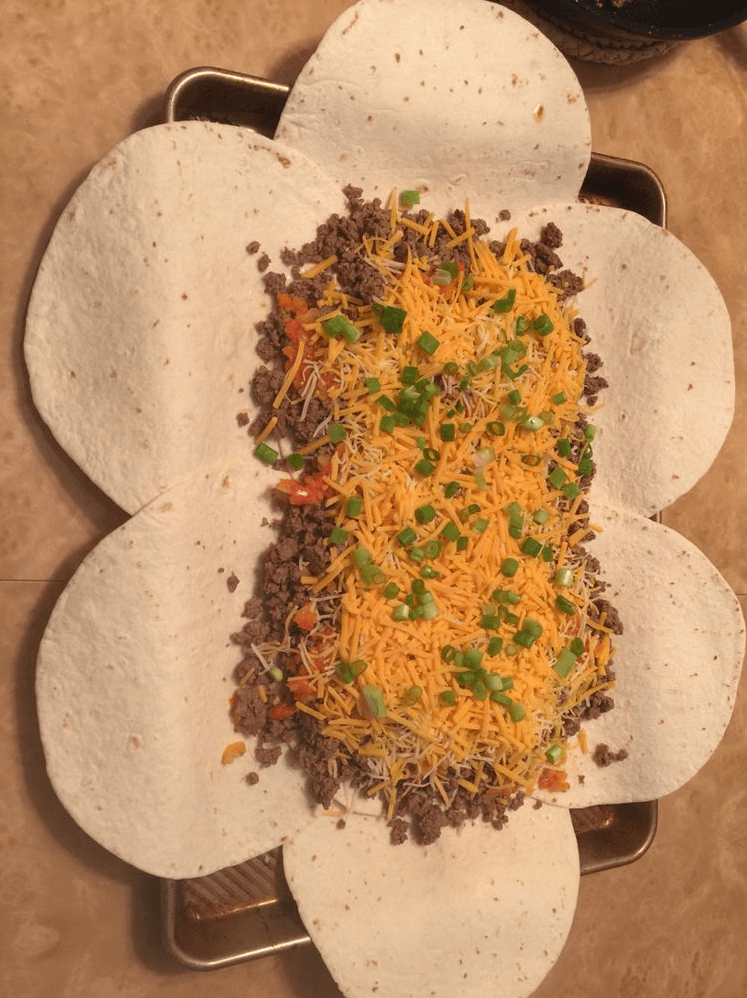 A 10 ingredient dinner that can be prepped in just 10 minutes and feeds 10 people!??! Yes, friends, it's true. And if you're feeding a crowd, these sheet pan quesadillas are a MUST. They are WAYYYY better than you're usual boring cheese and chicken quesadilla. These sheet pan quesadillas are loaded with all your favorite Mexican flavors but are a breeze to throw together!
You'll Love These
They're the best way to feed a crowd! Whether you're feeding a crowd of hungry toddlers or a crowd of hungry party-goers, these sheet pan quesadillas are the PERFECT quick and easy dinner! The best part is that you can make as many or as few as you want!
Baking quesadillas in the oven on a sheet pan is the very easiest way to make several quesadillas all at one time. Skip the stove and save time with these oven-baked quesadillas!
They're easily customizable based on what you've got in your pantry! I like to use this recipe as a blueprint and use up whatever we've got in the fridge or pantry. Do you have leftover steak fajitas from your favorite Mexican restaurant? Those would be perfect in these quesadillas! Do you have some Mexican rice and beans taking up space in the fridge? Use 'em in these quesadillas!
1 tbsp. extra-virgin olive oil
2 bell peppers, chopped
1 onion, chopped
1 1/2 lb. ground beef
1 tsp. chili powder
1 tsp. cumin
1/2 tsp. smoked paprika
Kosher salt
Freshly ground black pepper
8 large flour tortillas
1 c. shredded cheddar
1 c. shredded monterey
2 green onions, thinly sliced
Sour cream, for garnish
Pico de gallo, for garnish
Preheat oven to 425°. In a large skillet over medium heat, heat olive oil. Add bell peppers and onion and cook until soft, about 5 minutes. Remove from skillet and set aside. Add ground beef to skillet and cook, breaking up meat with a wooden spoon, until beef is no longer pink, about 5 minutes. Drain fat, then stir in cumin, chili powder, paprika and season with salt and pepper.
On a half sheet, place 6 tortillas around the edges of the pan so that about half of each tortilla hangs over side. Place another tortilla in the center to cover pan completely, then top with ground beef, pepper and onion mixture, cheeses, and green onions.
Place another tortilla in the center (on top of all fillings), then fold each tortilla towards center. Place a second baking sheet on top of tortillas (to help quesadilla hold is shape!) and bake until tortillas are beginning to turn crispy, about 20 minutes. Remove baking sheet from on top and continue baking until tortillas are golden and crispy, about 15 minutes more.
Slice into rectangles and serve warm with sour cream and pico de gallo.