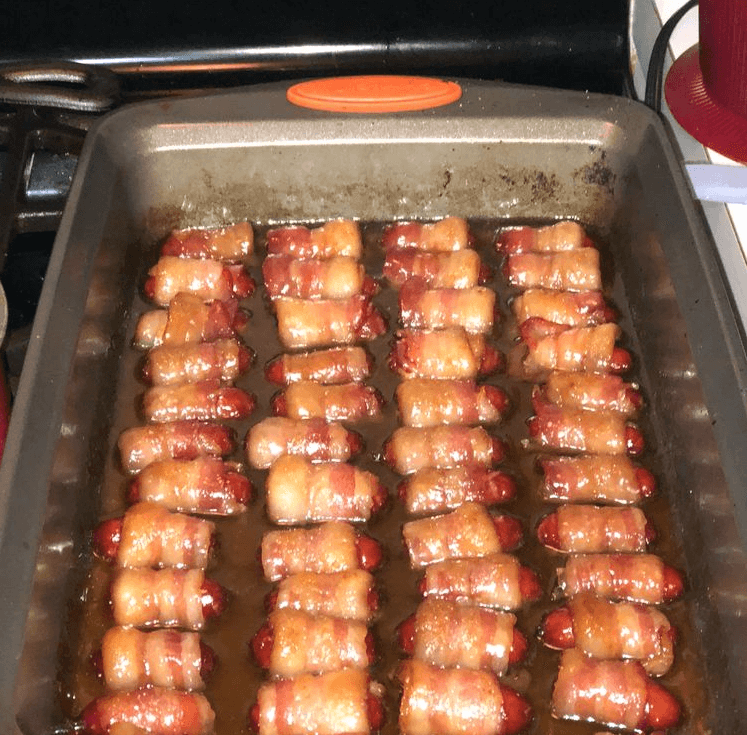 Good idea, terrible recipe! Cooking times are all cancelled. If you respect the times indicated in the recipe, you end up with soft bacon swimming in the fat. The recipe is much too sweet and the result is almost "candied". Thanks to another criticism, I knew that the cooking times were staggered so I adapted my way of cooking.
Either you try another recipe or you cook the sausages and bacon on your own at 400 degrees until the bacon is crispy. Then remove most of the fat from the bacon. You will get about 3/4 cup of fat! Then melt the butter and brown sugar in the microwave, mix well and pour a tablespoon or more on each. You probably won't use all the butter and brown sugar mixture unless you want to make candy. Bake in the oven at 400° until the mixture bubbles, about 10 minutes. If you cook too long, you'll end up with caramel.
The bacon is salty and the brown sugar is sweet. The best of both worlds.
Ingredients :
1 pound of bacon, cut in three
1 pound of Lil' Smokies (small sausages)
1 stick of butter
2 cups of brown sugar
Itinerary :
Preheat the oven to 375F.
Cut bacon in three and wrap each smokie (small sausage).
Place all wrapped smokies in a single layer in a baking dish.
Melt the butter stick, then 1 cup of brown sugar and stir until well blended.
Pour the butter and brown sugar mixture over the smokies and bacon.
Then take the other cup of brown sugar and sprinkle evenly over the smokies.
Cook for about 15 to 20 minutes, then turn up the heat to 400°F for 5 minutes or more until the bacon is crispy.