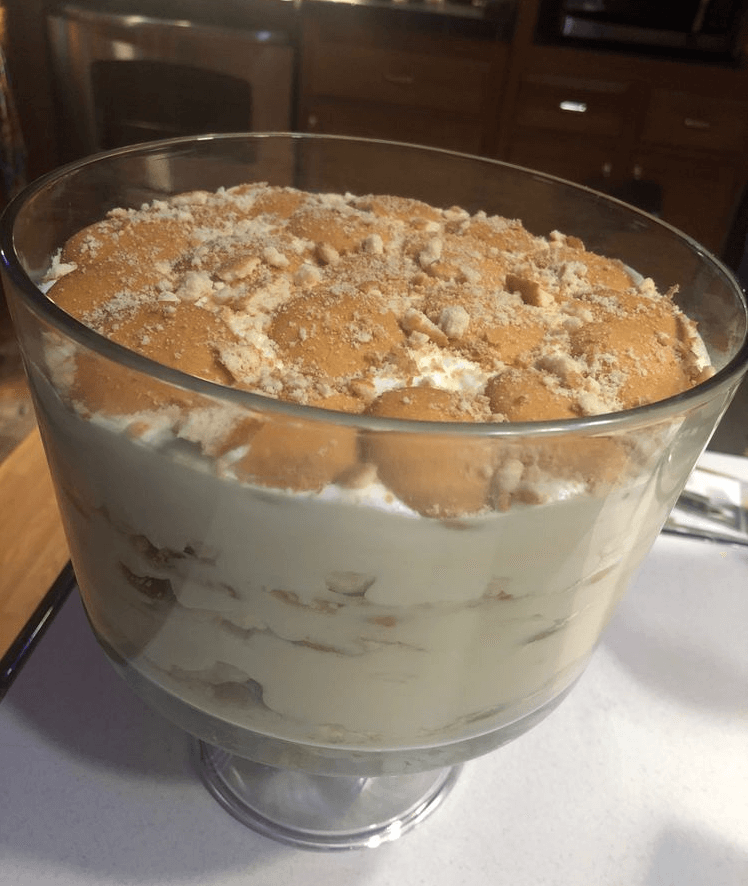 This Southern Banana Pudding is an inherited family recipe and a classic Southern dessert. The airy meringue on the creamy pudding is a delicious favorite and makes the best banana pudding!
Southern Banana Pudding Recipe
This banana pudding recipe is as much a comforting food in the South as it is a dessert. A dessert that everyone is always eager to discover to get the perfect proportion of vanilla wafers, pudding and bananas.
Grandma always made her own with a giant meringue on top of the pudding that was light as air and the perfect combination with the rich pudding. She used to ask my sister and me to help her make her dessert recipe so many times when we were young girls. It was a request that I don't remember ever hearing with weariness. She would ask one of us to carefully line the glass bowl with the vanilla wafers while the other cut the bananas into slices. We each had an important task and the pudding could not work if we both did not perform our tasks carefully.
Or at least, she always made us believe that it wouldn't work.
To make this recipe, you need the following ingredients:
INGREDIENTS
1/2 c. sugar
2 tablespoons flour
1/4 teaspoon salt
2 c. milk
4 separate eggs
1 tablespoon of vanilla flavouring
1 box of vanilla wafers
4 ripe bananas
How to do it :
Mix the flour, salt and sugar; slowly add the milk. Stir constantly over low heat until the mixture thickens. Stir and cook for about 15 minutes. Beat the egg yolks in a bowl and stir them into the mixture, stirring slowly and constantly.
Cook for about 5 more minutes, stirring constantly. Remove from the heat and add the vanilla. Line the bottom of the casserole dish with the vanilla wafers, bananas (cut into slices) and custard mixture. Repeat layers, finishing with the custard.
Beat the egg whites until stiff. Add 1/4 cup sugar; whisk until mixture reaches a maximum. Spread over the custard and bake in the oven at 450 degrees for about 5 minutes or until golden brown. Remove from oven and serve.
Source: allrecipes.com