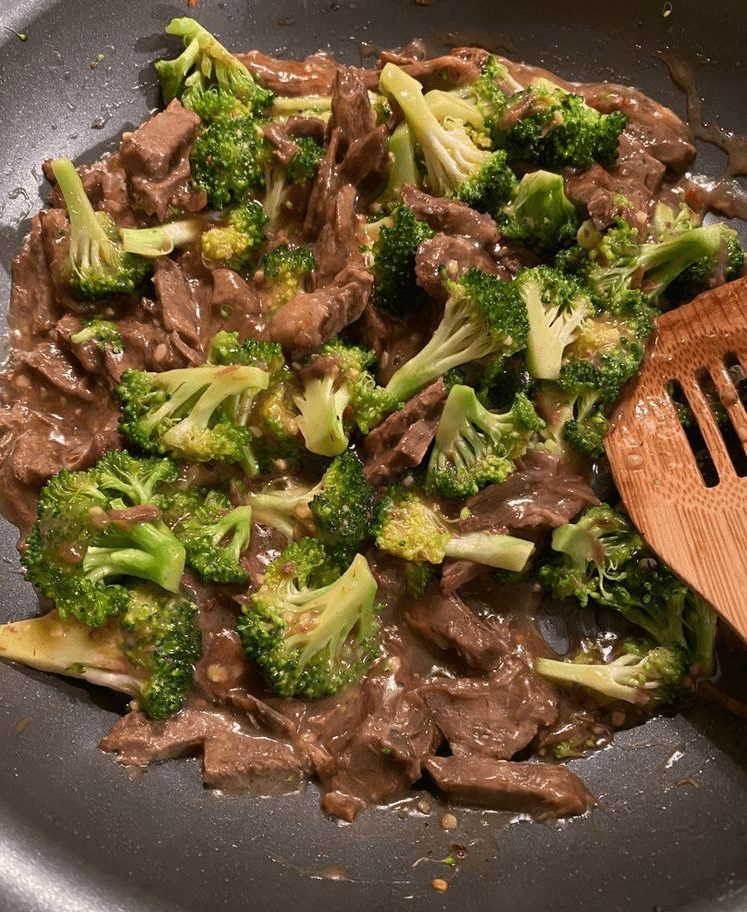 I have now done it twice. It was wonderful with the beef and great with the boneless pork loin too. The sauce is a little sweet, but well balanced. It's so good! One of the best homemade Chinese dinners. I used an electric skillet and added red bell pepper strips the second time. It's delicious!
Fabulous! (I love fresh ginger, so I added some finely chopped ginger to the marinade. Mmmm!) Thanks for posting that.
Addendum: Done several times since the first review. DH is absolutely thrilled with it. This time, I doubled the recipe (to make sure I have some leftovers). Sautéing so much beef in small batches took a little longer, but it was well rewarded. Thanks again. (I wish I could give it another 5 stars!)
I modified the recipe a little bit to adapt it to my tastes, and it turned out to be very tasty and delicious. I added about 1/4 teaspoon of ground ginger to the marinade and a large clove of chopped garlic. I doubled the recipe since I used a roast beef. I let it marinate for 3 hours and it was perfectly tender. I also cut half an onion into strips and sautéed it with it. I just put all the meat in my frying pan, the onion and broccoli and fried it for about 10-15 min. until the meat was cooked. It came out very well, and no more frying pan to clean! The broccoli was frozen at first and was tender and crispy when the meat was finished. Thank you for this excellent recipe!
Ingredients
3 tablespoons cornstarch, divided
1⁄2 cup water, plus
2 tablespoons water, divided
1⁄2 teaspoon garlic powder
1 lb boneless round steak or 1 lb chuck steak, cut into thin 3-inch strips
2 tablespoons vegetable oil, divided
4 cups broccoli florets
1 small onion, cut into wedges
1⁄3 cup reduced sodium soy sauce
2 tablespoons brown sugar
1 teaspoon ground ginger
hot cooked rice
Directions
In a bowl, combine 2 tablespoons cornstarch, 2 tablespoons water and garlic powder until smooth.
Add beef and toss.
In a large skillet or wok over medium high heat, stir-fry beef in 1 tablespoon oil until beef reaches desired doneness; remove and keep warm.
Stir-fry broccoli and onion in remaining oil for 4-5 minutes.
Return beef to pan.
Combine soy sauce, brown sugar, ginger and remaining cornstarch and water until smooth; add to the pan.