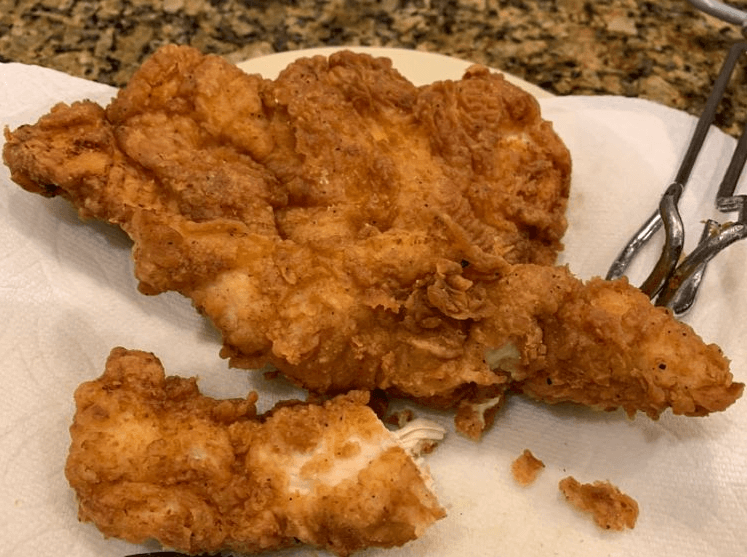 This was amazing! The BEST fried chicken recipe I've ever found. The only thing I did different was double the amount of crumbs, as I went through them faster than I expected. The flavor and moisture was to DIE for. 😀
Good chicken and quiet easy. It was very moist and the cooking time was spot on for bone-in thighs. If I make it again, I'll add a bit more seasoning to the crumbs. This would be great with thyme and some garlic.
This was quite good, cxstitcher. Someone suggested using garlic butter Ritz. I looked for them and found a lot of different flavors of Ritz crackers, but I never found garlic butter Ritz. So I used plain Ritz and added a little garlic powder to the cracker crumbs. I didn't really taste the garlic, so I'd like to make this again when I can find the garlic butter Ritz. But even with plain Ritz, this turned out very nice.
Ingredients
6 boneless, skinless chicken breast cut into thirds
•1 cup all-purpose flour
•1/2 teaspoon salt
•1 tablespoon seasoned salt (I use Lawry's Seasoned Salt)
•3/4 teaspoon pepper
•2 teaspoon paprika
•1/2 stick butter (or 1/4 cup)
•Buttermilk
•1 gallon-size Ziploc bag (optional)
Directions
Place thawed chicken strips in a bowl of buttermilk, cover, and let soak 20-30 minutes in the refrigerator.
Preheat oven to 400 degrees Fahrenheit.
Combine and mix thoroughly flour, salt, seasoned salt, pepper, and Paprika in a gallon-size Ziploc bag or bowl.
Cut 1/2 stick of butter into a few pieces and place in a 9- x 13-inch pan. Melt butter in preheated oven.
Spread melted butter around the bottom of the pan. Lightly spray the pan with cooking spray, if needed, to make sure that there are no dry spots.
Shake excess buttermilk off chicken and completely coat each piece in flour mixture. Either shake in the bag until coated or dip each piece in the bowl until coated.
Place each piece of chicken in the preheated pan. Bake for 20 minutes. Turn each piece of chicken over and continue baking for 20 minutes more, or until cooked through (170 degrees F).