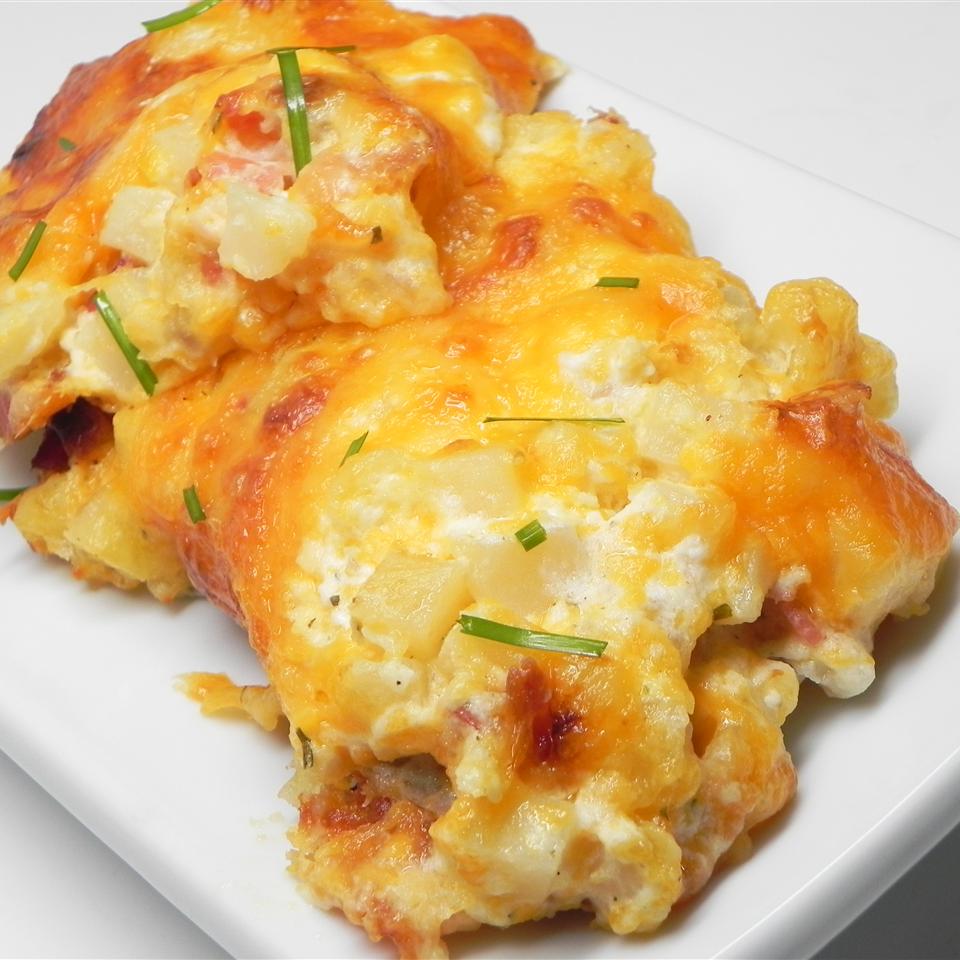 "Best potatoes you will ever make, guaranteed! This recipe feeds a lot of people. I took it to a potluck and the pan came home licked clean, literally! People were going back for seconds and thirds and disappointed when it was all gone. This is a totally addictive potato recipe (hence the name), you just can't stop eating them! It's a cinch to toss together and goes great with chicken, beef or pork, heck it would even make your sneakers taste good. Recipe can easily be halved to feed a family of four."
I made it the first time as written, and we liked it but thought it a bit dry. The second time we were in a hurry and didn't have time to cook bacon, but did add some green onions to try to make up for the lack of bacon. We also precooked the potatoes in the microwave so it wouldn't have to bake as long. That worked out well, and I'll probably do that in the future every time. I also added some extra sour cream and cheese, and everyone liked it better.
My husband and I have both made this recipe. I am the queen of no time and quickness, so I modified the ingredients a bit to suit my taste. To each his own!. I substituted bacon pieces from a bag and added 2 tablespoons of bacon grease, for authenticity. I added salt, white pepper and Tony Chachere's original Creole seasoning for kick and last I used sharp, white cheddar and pepper jack cheese. Now this pan of Crack Potatoes didn't even last till the next day! My 83 year old mother, a hard palate -nut -to -crack had 2 helpings!
Ingredients
cooking spray
1 (32 ounce) package frozen hash brown potatoes, thawed
1 (16 ounce) container sour cream
8 slices cooked bacon, crumbled
1 (1 ounce) package ranch dressing mix
2 cups shredded Cheddar cheese, divided, or more to taste
Directions
Preheat oven to 350 degrees F (175 degrees C). Grease a 13X9-inch baking pan with cooking spray or butter.
Combine hash browns, sour cream, bacon, ranch mix, and 1 cup Cheddar cheese in a large bowl; stir until well mixed.
Spread into baking pan; cover with aluminum foil.
Bake in the preheated oven for 45 minutes. Remove foil; sprinkle remaining Cheddar cheese evenly across potatoes. Bake until cheese is bubble and lightly browned around the edges, about 15 minutes.
Nutrition Facts
Per Serving:
425.4 calories; protein 17.1g 34% DV; carbohydrates 24.9g 8% DV; fat 35.4g 55% DV; cholesterol 74.4mg 25% DV; sodium 802.5mg 32% DV