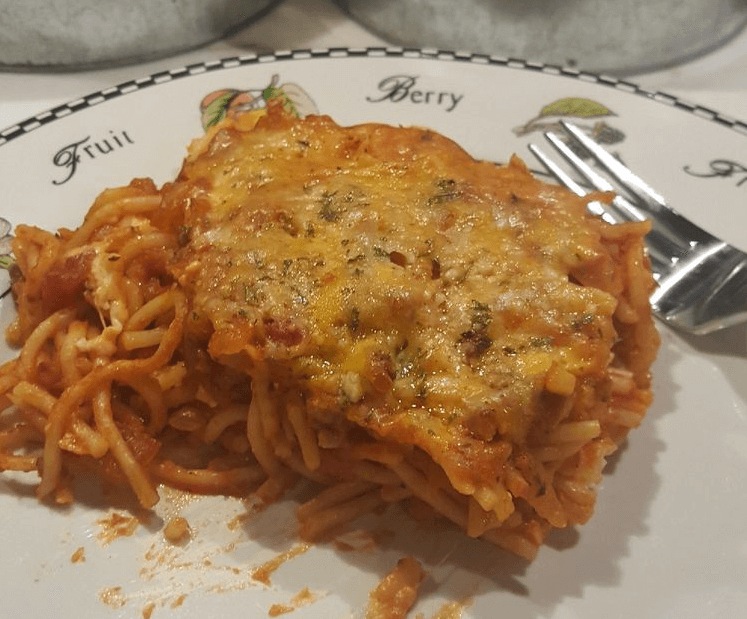 A baked spaghetti dish that is surprisingly cheesy and creamy. It's a comforting food at its best, and the easiest!
I know. It's the day after Labor Day, we're about to start the soccer season, and I'm posting this instead of some kind of post-labour day type recipe, juice, clean up, quinoa, health kick.
Sorry guys, but you'll need your stretchy pants for that.
This is pure comfort food at its best – so no. It's not good for food. It's not skinny. It's not light. It's just the best kind of spaghetti.
It's a spaghetti dish with layers of pasta, cream cheese and sour cream, and a meat marinara sauce, cooked to perfection with cheese.
INGREDIENTS :
1 pound of spaghetti
1 tablespoon of olive oil
1 pound of ground beef
1 small onion, diced
Kosher salt and freshly ground black pepper
1 can (28 ounces) crushed tomatoes
1 teaspoon of dried basil
1/2 teaspoon dried oregano
1/2 teaspoon dried parsley
1/2 teaspoon crushed red pepper flakes, optional
1/2 cup whipped cream cheese
1/2 cup sour cream
1/2 cup grated cheddar cheese
1/2 cup grated Monterey Jack cheese
2 tablespoons chopped fresh parsley leaves
DIRECTIONS :
Preheat oven to 350 degrees F. Lightly oil a 9×13 baking dish or coat it with non-stick spray.
In a large pot of boiling salted water, cook pasta according to package directions; drain well.
Heat the olive oil in a large skillet over medium-high heat. Add ground beef and onion and cook until beef is browned, about 3 to 5 minutes, making sure to crumble as it cooks; season with salt and pepper to taste. Drain off excess fat.
Stir in the crushed tomatoes, basil, oregano, parsley and red pepper flakes; season with salt and pepper to taste.
In a small bowl, whisk together the cream cheese and sour cream.
Add the pasta to the prepared baking dish and cover with the cream cheese and beef mixture; sprinkle with cheese.
Place in the oven and bake until bubbling and heated through, about 15 to 20 minutes.
Serve immediately, garnishing with parsley, if desired.