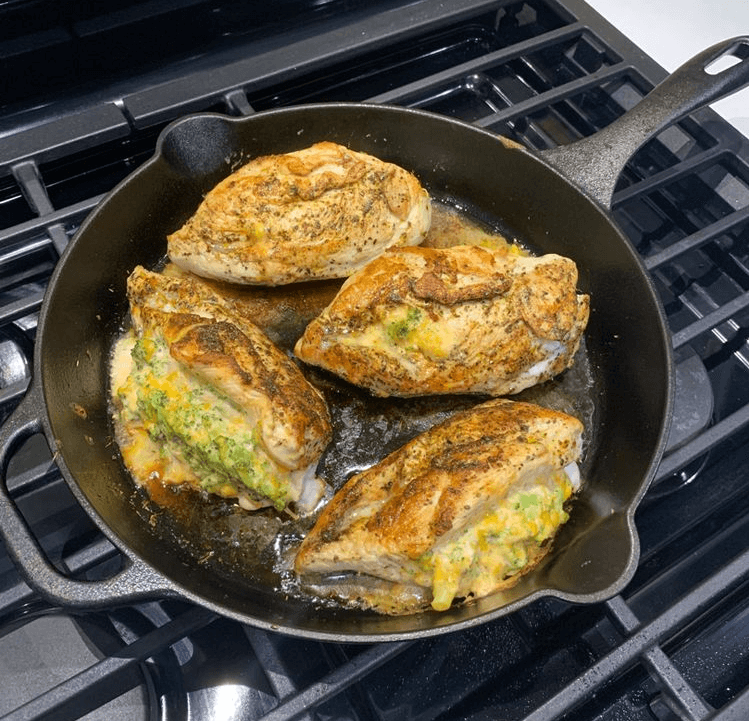 These easy Stuffed Chicken Breasts with chopped broccoli and cheddar cheese look fancy but are actually quite easy to make. Delicious, full of flavor, a fun restaurant style meal at home.
You won't believe that these Cheesy Broccoli Stuffed Chicken Breats are actually easy to make at home! They are crispy on the outside with the most delicious creamy broccoli filling.
It's winter and that means less grilling and more oven-cooking. That's not to say we don't grill in the winter, we do, but just not every day like it seems like we do in the summer! While grilled chicken is one of my favorite things to eat on a hot summer day, I also like chicken a lot of other ways too, especially stuffed!
The great thing about this cheesy broccoli stuffed chicken breast recipe is that it only takes about 45 minutes in total and that includes cutting, stuffing, searing, and baking the chicken.
It's also super versatile (more on that below) and works great for a crowd too. Serve alongside a wild rice mix or with some roasted veggies that can roast right alongside the chicken for a quick and healthy meal that's great for weeknights.
4 boneless skinless chicken breasts
1 tbsp olive oil
2 tsp Italian seasoning
1 tsp garlic powder
1/2 tsp onion powder
2 cups broccoli florets, chopped
1 tbsp water
1/2 cup reduced fat shredded cheddar cheese
1/4 cup low fat cream cheese
1 tbsp Dijon mustard
1 garlic clove, minced
Salt and pepper
Instructions
To steam broccoli: Chop the broccoli florets into small pieces. Put all the broccoli in a microwave-safe bowl and about 2 tablespoons water. add water.  Cover with plastic wrap and microwave on high for 2-3 minutes. Alternatively, steam on stove-top or blanch in boiling water for 1 minute.
Use a sharp knife to slice each chicken breasts horizontally to form a pocket. Be sure not stop cutting about 1/2 inch from the ends and sides. Season chicken breasts with a generous sprinkle of Italian seasoning, garlic powder, paprika, salt, and pepper.
In a large bowl, combine the steam and chopped broccoli, bell pepper, garlic, cheeses and salt & Pepper; set aside. Spoon the mixture into each chicken breast evenly. Secure with toothpicks if needed.
Preheat oven to 400F. Heat 1 tablespoons oil in a large cast iron or oven-safe pan over medium-high heat. Add the chicken breasts and cook for 2-3 minutes per side or until golden. Cover with aluminum foil and transfer to preheated oven for 15-20 minutes or until cooked through.