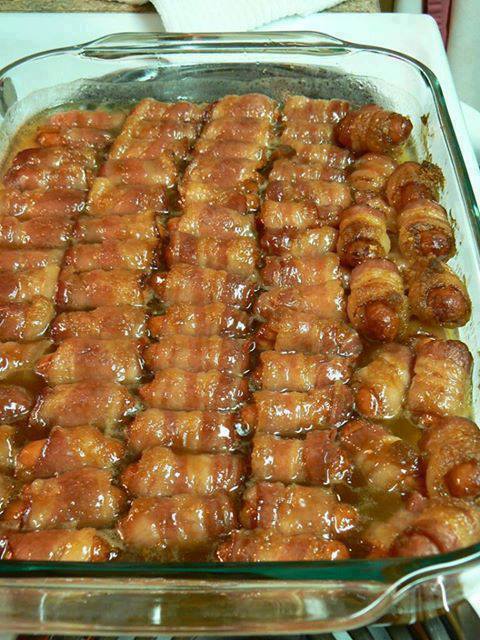 Helpful Reviews
I have made these several times for tailgating parties. I put the brown sugar in a ziploc bag and shake a few pieces of bacon and a couple smokies then wrap them up. I also sprinkle more brown sugar on top before baking. If your bacon isn't crisping up, put your pan under the broiler for a few minutes. Be careful, though, I almost caught the toothpicks on fire!
I made these for a weekly get together with friends and was requested, nay DEMANDED to make these two days later for another party. WONDERFUL, EASY appetizer! TIPS: Definately use foil on your pans when baking. Cook for first 25 minutes at 325 and the last 15 minutes at 350. Use center cut, thin sliced bacon and cut in half. Less fat and no need for toothpicks. Also if putting in a slow cooker to keep warm, pour a half a cup (or so) of maple syrup in the cooker to help keep them moist. EXCELLENT RECIPE!
"Meat Candy" is what my BF called this. He requested a creamy horseradish dip to go along with it to balance the sweetness of the "meat candy". I will use the yummy "tiger dill sauce" recipe from Outback Steakhouse. Blend together: 2/3 C. Sour Cream, 1/4 C. Mayonnaise, 3 tsp. Prepared Horseradish 3/4 tsp. Sugar, 1/4 tsp Dill Weed.
Awesome recipe. I made these for our Christmas get together this past weekend. Out of all the appetizers I served, this was the first one to go. To ease in preparation, I prepared all of these the week before and froze them individually on cookie sheets. After they were frozen I put them into freezer bags and stored them until I needed them. I took them straight from the freezer and put them on a cookie sheet, sprinkled with brown sugar and cooked them at 400o for about 30 minutes. They came out wonderfully and I will be making this recipe again! I still have some bacon wrapped smokies in the freezer!
Definite Man Pleasers!!! Use maple flavored bacon for extra flavor and disposable baking sheets. Cooked for 35 minutes and upped the temp to 450 the last 5 minutes or so which helped carmelize the brown sugar. Hint: If you chose to up the temp, stand guard over your oven as these are apt to burn quickly if you're not careful.
I have made these several times & they ALWAYS dissappear! I pre-cook the bacon in the micro till soft before wrapping & putting them in the oven. I also line a baking sheet with foil, put the doggies on a baking rack on the foil, & then sprinkle the brown sugar on. This prevents a nasty clean up, and the sugar & bacon grease meld. I put the doggies in a crock & pour the grease/sugar mix over them, sprinkle more brown sugar on them, stir, and put the lid on the crock. It really makes a great sauce on them!! yum yum yum hubby & I LOVE these!
outstanding!! i've made these a couple of times for parties – and they always disapear so quickly! everyone raves about them! This last time i rolled them the night before (so i didn't have to prep the day of). dredged the bacon in brown sugar – and rolled and toothpicked right in the brown sugar. put them all in a bowl and marinated in the fridge over night (mm..you'll have a nice "brownsugary marinade" the next day). baked about 2 hrs before the party – 350 about 15-20 min then flipped them and baked 15 more min. Then put them all in a crockpot on low and poured the "juices" that were in the marinating bowl (mixed with 1/4 cup maple syrup) poured over smokies in the crockpot. kept on "low/warm" for the entire party. mmmm….perfect!
Ingredients:
1 pound Bacon, Cut Into Thirds
1 pound Lil' Smokies (small sausages)
1 stick Butter
2 cups Brown Sugar
Directions:
Preheat oven to 375F.
Cut the bacon into thirds and wrap each smokie.(small sausage)
Place all the wrapped smokies in a single layer in a baking dish.
Then melt the stick of butter and then 1 cup of brown sugar and stir until mixed well.
Pour the butter and brown sugar mixture on the smokies and bacon.
Then take the other cup of brown sugar and sprinkle evenly over the smokies.
Bake them for about 15-20 minutes and then turn the heat up to 400F for about 5 minutes or longer until the bacon becomes crispy.