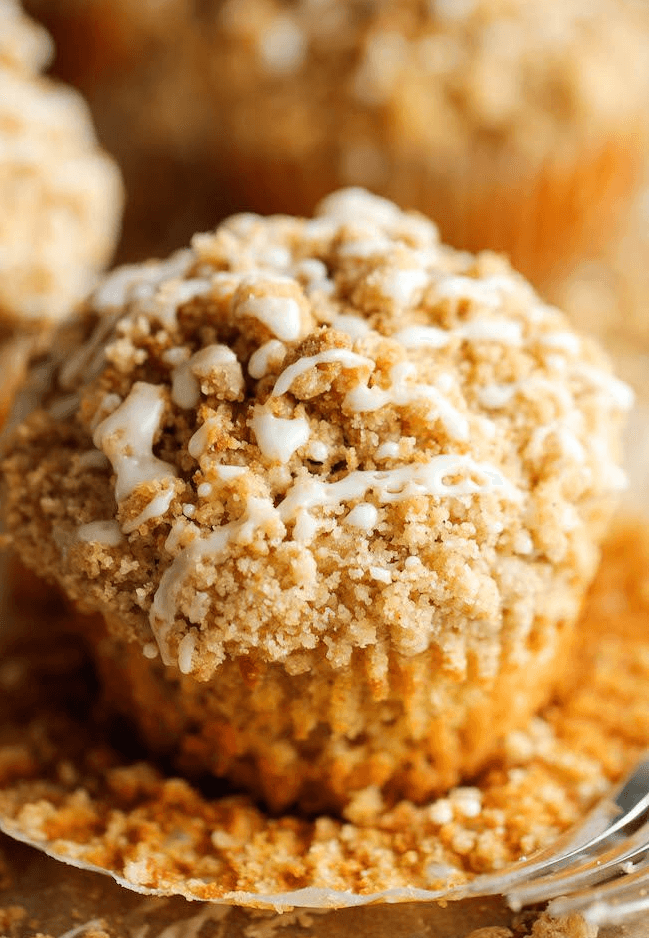 Fabulous apple muffins with a delicious cinnamon crumb topping! Give them a try — you won't be sorry!
These is the yummiest muffins I's ever had. Super simple too. I added cinnamon and nutmeg to the dry ingredients like many of you did – thanks for the tip.
This is a MUST TRY recipe. Absolutely fabulous. These muffins are so moist, all my cooworkers loved them.
Wow these are really good. I also doubled the topping and put some of it in the middle of the muffins (filled tin 1/2 way put some topping in filled rest of way and finished with topping) and it was out of this world.
WOW!! Like a lot of people I doubled the amount of apples added a tsp of cinnamon and changed the sugar to be half white and half brown….best muffins I have ever had
Prep: 20 mins
Cook: 20 mins
Additional: 20 mins
Total: 1 hr
Servings: 12
Yield: 12 muffins
Ingredients
2 cups all-purpose flour
1 teaspoon baking powder
½ teaspoon baking soda
½ teaspoon salt
½ cup butter
1 cup white sugar
2 large eggs eggs
1 ¼ teaspoons vanilla
1 ½ cups chopped apples
⅓ cup packed brown sugar
1 tablespoon all-purpose flour
⅛ teaspoon ground cinnamon
1 tablespoon butter
Directions
Step 1: Preheat oven to 375 degrees F (190 degrees C). Grease a 12 cup muffin pan.
Step 2: In a medium bowl, mix flour, baking powder, baking soda and salt.
Step 3: In a large bowl, beat together butter, sugar and eggs until smooth. Mix in vanilla. Stir in apples, and gradually blend in the flour mixture. Spoon the mixture into the prepared muffin pan.
Step 4: In a small bowl, mix brown sugar, flour and cinnamon. Cut in butter until mixture is like coarse crumbs. Sprinkle over tops of mixture in muffin pan.
Step 5: Bake 20 minutes in the preheated oven, or until a toothpick inserted in the center of a muffin comes out clean. Allow to sit 5 minutes before removing muffins from pan. Cool on a wire rack.
Nutrition Facts
Per Serving:
263.7 calories; protein 3.4g 7% DV; carbohydrates 41.4g 13% DV; fat 9.7g 15% DV; cholesterol 53.9mg 18% DV; sodium 254.6mg 10% DV.