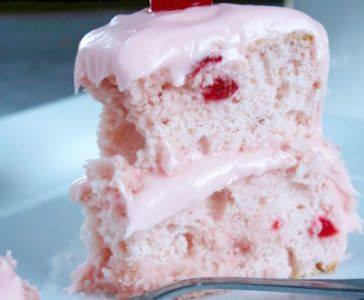 I made this for my husbands birthday and our guests loved it. They all loved how moist the cake was and asked for additional slices to go. The only thing I did different was doubled the icing to put on the sides of the cake.
I made it for a Christmas present for a neighbour. OMG it was fantastic now everyone wants one. It was the first time I had made a layer cake. Of course I had to try a difficult one.
No changes. Everybody loved it even those who are not crazy about chocolate. Holiday dessert for sure.
Yep! Pretty much heaven. I made this for work. I needed it to travel well so I did not put the cherry pie filling in or on it. I took the cherries separately and had people spoon it on to their slices of cake.
Ingredients :
For the Cake:
3 cups sifted cake flour
2½ teaspoons baking powder
1 teaspoon salt
⅓ cup unsalted butter, room temperature
⅓ cup vegetable shortening
1½ cups sugar
¼ cup maraschino cherry juice
¾ cup whole milk
¼ tsp almond extract
16 maraschino cherries, cut into eighths
5 egg whites, room temperature, stiffly beaten
For the Frosting:
8 oz (1 block) cream cheese, room temperature
¾ cup (1½ sticks) unsalted butter, room temperature
¼ cup maraschino cherry juice
6 cups confectionary sugar
How to make it :
For the Cake: Preheat oven to 350 degrees F.
Generously grease and flour two 9-inch round layer cake pans (line bottoms with parchment, if desired) and set aside.
Sift the flour, baking powder, and salt together in a medium bowl; set aside.
Cream butter, shortening, and sugar in a large bowl until fluffy, about five minutes.
Measure out the milk, almond extract, and cherry juice into one liquid measuring cup together. Beginning and ending with the dry ingredients, alternately add the wet and dry to the creamed mixture. Beat well after each addition. Fold in the cherries.
Stiffly beat egg whites in a separate bowl. Fold in ⅓ of egg whites to batter to lighten it. Fold in the remaining egg whites until mixture is well combined.
Divide the batter between pans and bake for 30 to 35 minutes, or until springy to touch.
Cool cakes in pans on wire racks for about 10 minutes. Using a thin knife, loosen carefully around edges and turn out onto the racks. Cool to room temperature.
For the Frosting: Cream together the butter and cream cheese with half the confectionary sugar. Add the cherry juice. Mix in enough of the remaining confectionary sugar to get the taste and consistency desired.