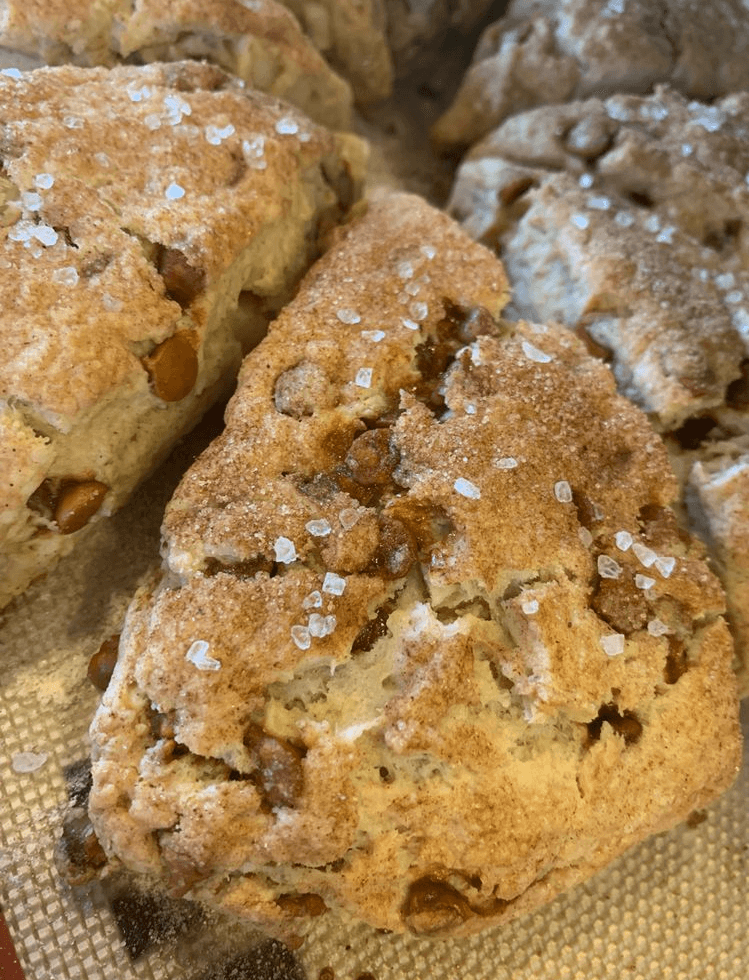 Apple-cinnamon scones should become a fall staple in your home! These delicious scones are topped with cinnamon shavings and chopped apples, then covered with a crunchy cinnamon-sugar topping. These apple scones smell and taste like a perfect fall morning!
Pumpkin and apples are the essential ingredients of autumn. And with October fast approaching, I am more than ready for the baking season!
INGREDIENTS
2 3/4 cups all-purpose flour
1/3 cup granulated sugar
1/2 teaspoon of salt
1 tablespoon of baking yeast
1 teaspoon apple pie spices
8 tablespoons unsalted butter – cold, and cut into cubes
3/4 cup fresh apples – skin removed, cut into pieces 1/2″
3/4 cup cinnamon chips
2 large eggs
1 teaspoon vanilla extract
1/3 cup applesauce – sweet or unsweetened
2 1/2 tablespoons of apple cider
1 tablespoon milk – for brushing on scones
Cinnamon sugar topping
3 tablespoons of white sparkling sugar – or raw sugar
1/2 teaspoon ground cinnamon
INSTRUCTIONS
In a large bowl, whisk together flour, sugar, salt, baking powder and apple pie spice.
Add the butter cut into cubes to the bowl. Using a pastry blender, cut the butter into the dry ingredients until crumbly.
Stir in the chopped apples and cinnamon shavings.
In a medium bowl, whisk together eggs, vanilla, applesauce and cider.
Add the liquid ingredients to the dry ingredients. Stir until smooth. Divide the dough in half.
Place the two balls of dough on a floured work surface. Shape each ball into a circle about 3/4″ thick. 56″ about 3/4″ thick.
Brush each circle with milk and then sprinkle with cinnamon sugar.
Cut each circle into 6 wedges for a total of 12 triangles. Place the scones on a baking sheet lined with parchment paper or silicone. Space the scones about ½" to 1″ apart.
Place the baking sheet, uncovered, in the freezer for 30 minutes.
While the scones are cooling, preheat the oven to 425 degrees. After 30 minutes of freezing time, remove the scones from the freezer and bake for 18 to 22 minutes or until golden brown on top. (Mine has been baked for the full 22 minutes).
Remove from the oven and let cool for a few minutes. Serve hot.