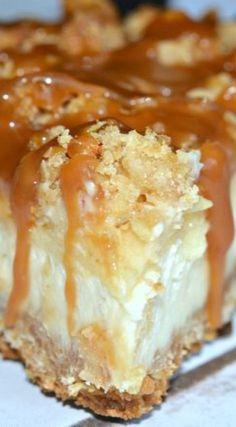 It seems to me that many bloggers are especially creative and inspired by this season, so it isn't easy to decide what to extract from all these glories.
October is the month when everything smells like apples, pears and pumpkins. The apple is the queen of autumn foods and you can make miracles with it – from the simplest bars to the glamorous desserts and cakes. These Caramel Apple Crisp Cheesecake Bars are ideal choice in the autumn season, but also during holidays, which are knocking on the door.
I'm sure you agree that it is most beautiful when we can spend this cold, foggy day in the comfort of our own home, surrounded by magical scents and enjoy a delicious bars like this.
I hope you'll smell it from the screen 🙂 and you'll prepare this Caramel Apple Crisp Cheesecake Bars in order to make your day beautiful, and while these bars bake, you house will smell like a fall-scented bakery. No candles required.
Because you know how I like to say, happiness is in little things, so we have to take care of ourselves and to make sure that every day is special. Let today stand out and be remembered for an excellent dessert.
Please continue to Next Page (>) for the full list of ingredients and complete cooking instructions.