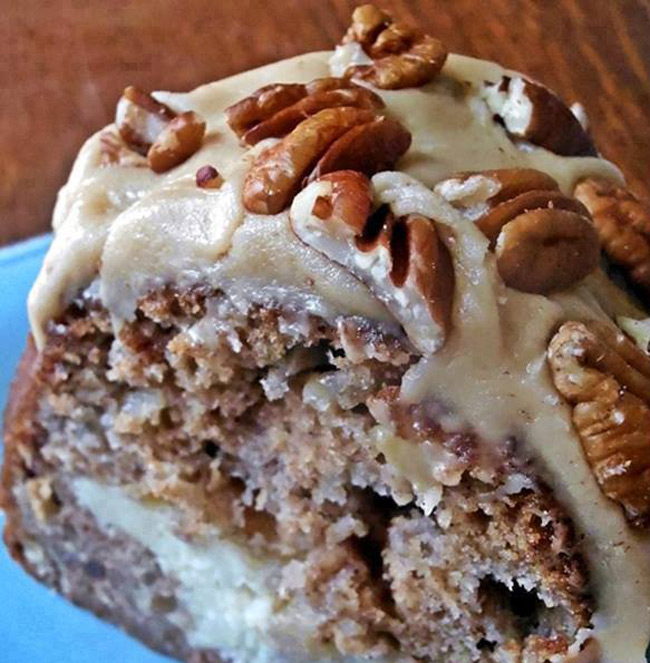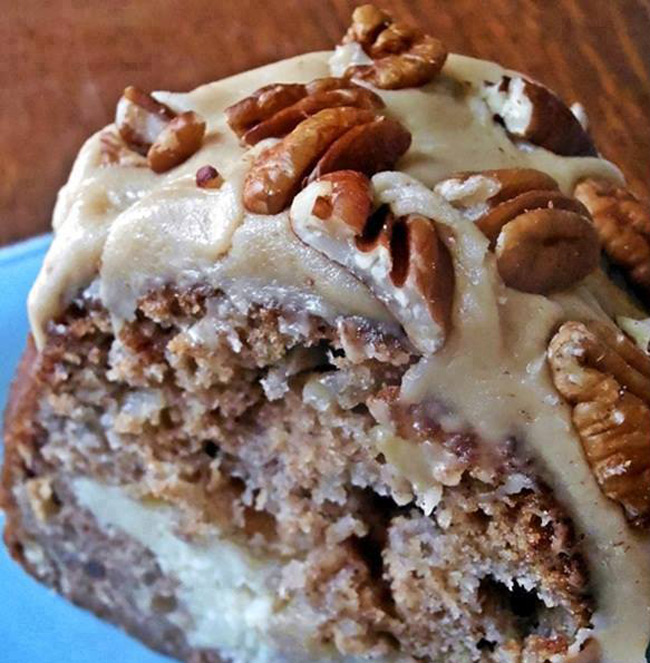 This Apple Cream Cheese Bundt Cake recipe is perfect for fall – or anytime! – with a cream cheese tunnel and caramel icing.
Now that the cooler fall weather has arrived, it's the comforting food of the season. Basically, everything apple and pumpkin is game. And after being married for 16 years, I know that apple desserts are the key to my husband's heart. That's without a doubt the inspiration behind this apple and cream cheese cake.
He is the biggest fan of my Snickerdoodle Apple Crisp and he is the one who introduced me to the recipe for my Apple Cinnamon Sugar Cake. And don't forget the Apple Piecaken – a whole apple pie baked in a cake! – that I made for his birthday this year.
This apple cream cheesecake recipe is a combination of her love for everything apple and my love for cheesecake. A cinnamon cake sprinkled with apples with a tunnel of cream cheese baked in the middle and covered with my homemade caramel icing.
Ingredients :
Cream cheese filling:
1 packet cream cheese, softened
1/4 cup butter, softened
1/2 cup granulated sugar
1 large egg
2 tablespoons all-purpose flour
1 teaspoon vanilla extract
Apple cake dough :
1 cup finely chopped pecans
3 cups all-purpose flour
1 cup granulated sugar
1 cup light brown sugar, well packed
2 teaspoons ground cinnamon
1 teaspoon of salt
1 teaspoon baking soda
1 teaspoon ground nutmeg
1/2 teaspoon ground allspice
3 large eggs, lightly beaten
3/4 cup canola oil
3/4 cup applesauce
1 teaspoon vanilla extract
3 cups apples, peeled and finely chopped (about 1 1/2 lb)
Caramel pecan frosting :
1/2 cup light brown sugar, well packed
1/4 cup butter
3 tablespoons of milk
1 teaspoon vanilla extract
1 cup powdered sugar
1 cup pecan halves (topping)
Instructions :
Prepare the filling: Beat the first 3 ingredients at medium speed with an electric mixer until the mixture is homogeneous and smooth. Add egg, flour and vanilla; beat just enough to blend.
Prepare the dough: Preheat the oven to 350º. Bake the pecans in a shallow pan for 8 to 10 minutes or until toasted and fragrant, stirring halfway through. Combine 3 cups of flour and the next 7 ingredients in a large bowl; add eggs and the next 3 ingredients, stirring just enough to moisten the dry ingredients. Stir in apples and pecans.
Pour two-thirds of the apple mixture into a greased and floured 14-cup Bundt pan. Fill the apple mixture with cream cheese, leaving a 1-inch rim around the bundt pan. Swirl the filling into the apple mixture with a peeling knife. Pour the remaining apple mixture over the cream cheese filling.
Bake at 350º for 1 hour to 1 hour and 15 minutes or until a long wooden pick inserted in the center comes out clean. Cool cake in pan on wire rack for 15 minutes; remove from pan on wire rack and let cool completely (about 2 hours).
To make frosting: Boil 1/2 cup brown sugar, 1/4 cup butter and 3 tablespoons milk in 2-quart saucepan over medium heat, whisking constantly; boil 1 minute, whisking constantly. Remove from heat; stir in vanilla. Gradually whisk in powdered sugar until smooth; stir gently for 3 to 5 minutes or until mixture begins to cool and slightly thickens. Pour immediately over cooled cake. Garnish with pecans.