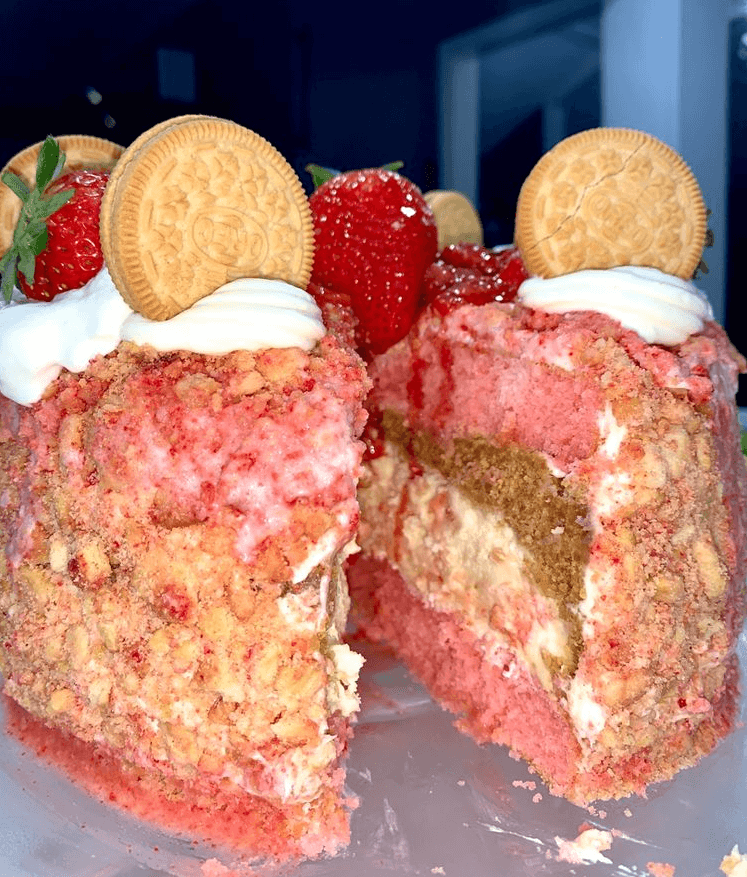 This beautiful strawberry cheesecake shortcake combines three of my favorite things – cake, strawberries and cheesecake – into a beautiful dessert that is perfect for celebrating!
If you've been reading the blog for a while, you know I love strawberries. It's been my favorite fruit since I was a child. My dad still buys them from me when they're in season and I come to visit.
So when I was asked to help Driscoll's Strawberries celebrate Strawberry Shortbread Day, I couldn't wait. Strawberry Shortbread has been a classic dessert for over 100 years and Dricoll's is easily my favorite brand of strawberries in my shortbread. They always have the best smelling and prettiest berries! I don't know about you, but I smell my strawberries to choose the best. 🙂
When I was trying to figure out what to do with the traditional dessert, this cheesecake was one of the few ideas that quickly came to mind. It's a great showcase for strawberries and with a full layer of shortbread on the bottom, you get a cheesecake with a full layer of strawberry shortbread!
How to make a strawberry cheesecake
I started making this recipe by preparing the shortbread. Believe it or not, I had never made shortbread from nothing before!
Shortbread is a little different from a typical cake. It's a bit like a sweet cookie, but with a slightly more cakey texture. But it is more crumbly than a cake.
So for the recipe for the shortbread, I went straight to the experts – Driscoll's. I borrowed the shortcake from their favourite strawberry shortcake recipe. It's so easy to make. Even easier to make than a cake.
The shortcake is covered with a thin layer of cheesecake, just to keep things together, and then whole strawberries. Aren't they beautiful, nestled in there?
Then they are completely covered with a light vanilla cheesecake without baking and a little whipped cream. The cake is then covered with a few extra strawberries and a little strawberry sauce.
Absolute perfection! The combination of flavors and textures is perfect.
The dense, crumbly cake, with its fresh, sweet berries and creamy, creamy cheesecake, is just as perfect as you can imagine. And it incorporates all the flavours of a good strawberry shortbread into a super fun and delicious cheesecake. You really won't want to share.
So it's time to get your ingredients and Driscoll's strawberries together. Let's celebrate National Strawberry Shortcake Day! Yummy!
To make this recipe, you need the following ingredients:
Ingredients
The Earth's crust
22 Crushed Golden Oreos
5 tablespoons melted butter
Filling
4 packages of 8oz cream cheese
1 2/3 cup of sugar
1/4 cup cornstarch
1 tablespoon of pure vanilla extract
2 large eggs
3/4 cup heavy whipping cream
Smuckers strawberry ice cream jar
Topping
12 Golden Oreos crushed and divided into 2 bowls (one for the plain Oreo topping, one for the strawberry topping)
1 1/2 teaspoons softened butter
3 tablespoons of a small packet of strawberry gelatine
Directions
Preheat the oven to 350 degrees.
Line the outside of your stove with aluminum foil and apply butter generously to the inside to prevent sticking.
Crust – crush the Oreo's and fold in the butter, then press into the bottom of your springform pan.
Fill – Place an 8-ounce package of cream cheese, 1/3 cup sugar and cornstarch in a large bowl.
Beat with an electric mixer on low heat until creamy, about 3 minutes, then beat in the remaining 3 packets of cream cheese. Increase the speed of the electric mixer to high and add the remaining 1 1/3 cup of sugar, then add the vanilla while beating.
Beat in the eggs, one at a time, beating well after each one.
Stir in the heavy cream.
At this point, stir in only the filling until completely blended. Be careful not to over-mix the dough.
Gently place half of the cheese filling on the prepared crust. Spoon half the jar of strawberry filling here and there. Slide a butter knife through the strawberries to marble the cheese and strawberries. Spoon in the other half of the dough and repeat on the strawberries. Bake for 1 hour or until there is only a slight tremor when you shake gently.
Crumb Topping – In a small bowl or in a food processor, add Oreo cookies and crumble. Add the softened butter and mix gently.