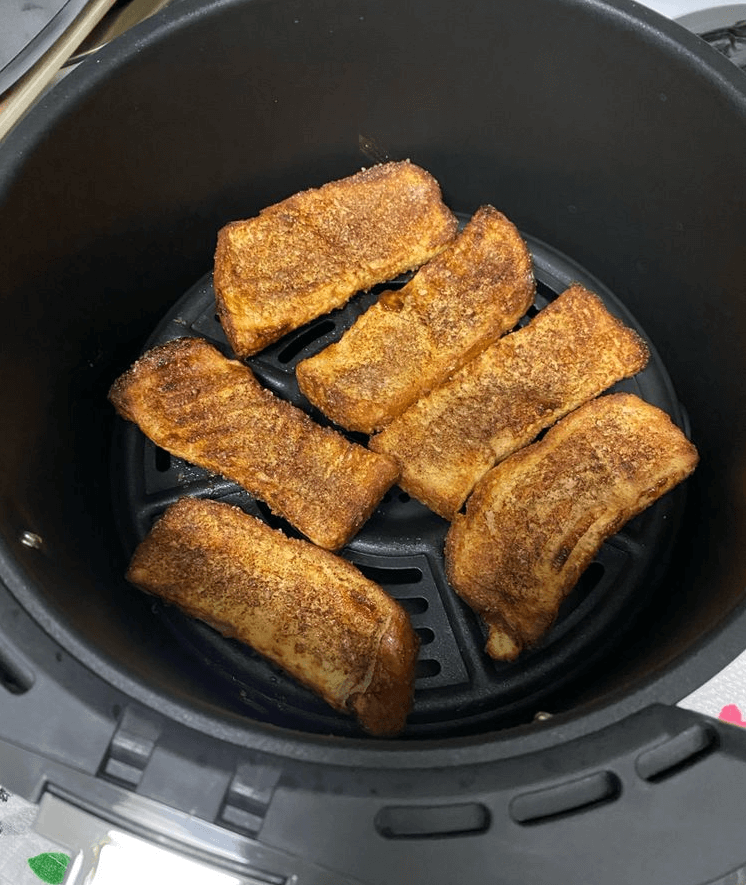 THESE AIR FRYER FRENCH TOAST STICKS ARE SO QUICK AND EASY TO MAKE. MAKE THEM AHEAD, FREEZE, AND JUST REHEAT TO MAKE BUSY MORNINGS FUSS-FREE!
Summer is coming to a close and kids are heading back to school. I don't know about you, but that means I need to get back into planning breakfast and lunch ideas.
My mornings are usually a bit hectic even without school being in session. I need quick and easy meal solutions … and I'm guessing you appreciate those kinds of recipes too!
My kiddos love French toast but to be honest, I don't always have the time or motivation to get up even earlier to make it for them before school starts. I love that this Air Fryer French Toast recipe is so simple. On the mornings when I have the time it's easy to make up a batch – or two for extras throughout the week.
INGREDIENTS
12 slices Texas Toast
1 cup milk
5 large eggs
4 tbsp. butter, melted
1 tsp. vanilla extract
1/4 cup granulated sugar
1 tbsp. cinnamon
Maple syrup, optional
INSTRUCTIONS
Slice each bread slice into thirds.
In a bowl, add the milk, eggs,butter, and vanilla. Whisk until combined.
In a separate bowl, add the cinnamon and sugar.
Dip each bread stick quickly into the egg mixture.
Sprinkle the sugar mixture onto both sides.
Place into the air fryer basket and cook at 350°F for about 8 minutes or until just crispy.
Remove from basket and allow to cool. Serve with maple syrup, if desired.
NOTES
To cook from frozen:
Toaster Oven/Bake: Preheat oven to 425°F. Bake for approximately 3 minutes per side.
Griddle: Heat Griddle to 325°F. Heat for approximately 3 minutes on each side.
Microwave: Place French Toast Sticks on a microwave-safe plate. Microwave on High for approximately 1 minute (3-4 sticks). Microwave ovens vary greatly, use these instructions as a guide only.