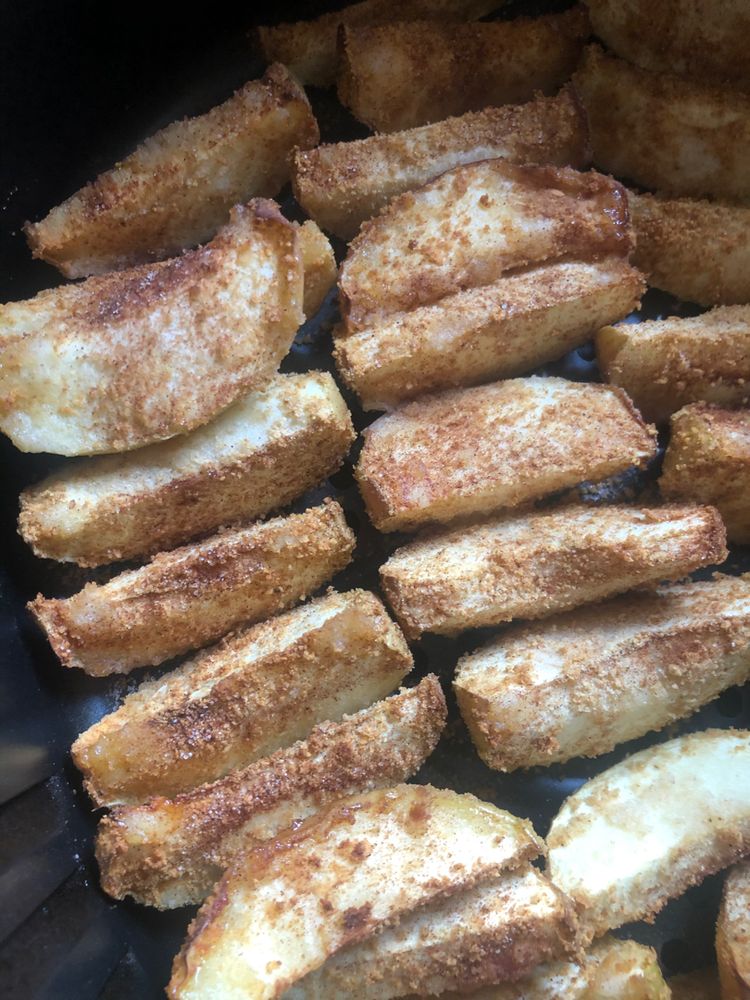 Ingredients
4 medium Honey Crisp apples or Granny Smith or Braeburn
1 cup all-purpose flour
3 Tablespoons Apple Pie Spice
3 large eggs
1 teaspoon vanilla extract
1/2 cup granulated sugar
2 teaspoons ground cinnamon
Things You'll Need
Air fryer
Baking sheets
Wire cooling racks
Whisk
Instructions
Peel skins from the apples and cut into 1/2 inch wedges.
In a bowl, whisk flour and apple pie spice.
Pour the flour mixture into a gallon sized plastic zipper bag, followed by the apple slices. Zip closed with air, and shake vigorously to coat apples.
Place a wire rack over the top of a baking sheet. Dump the apples onto the rack allowing the extra flour mixture to fall through and collect on the baking sheet.
In a medium bowl whisk the eggs and vanilla together. Coat the apples in the egg mixture.
To the extra flour mixture leftover on the baking sheet, dredge the egg dipped apple slices in the flour mixture again.
Lay prepared apple slices in the air fryer basket without overlapping the slices and spray with canola oil. Air fry for 12 minutes at 325F, flipping half way through and spraying the other side with canola oil.
In another medium bowl mix the sugar and cinnamon with a whisk. Sprinkle over warm apple slices.
Air fryer apple fries are best enjoyed when they are first made. However, you can reheat them in the air fryer at the same time but half the cook time.
We recommend using Braeburn, Honey Crisp, or Granny Smith apples for the best texture. In a pinch, you can use any type of apple.
Note that those fun apple slicers will make the slices too thick. You can use one, then cut each wedge in half lengthwise.
Nutrition
Serving: 1apple (about 16 fries) | Calories: 247cal | Carbohydrates: 52g | Protein: 5g | Fat: 3g | Saturated Fat: 1g | Trans Fat: 1g | Cholesterol: 93mg | Sodium: 39mg | Potassium: 265mg | Fiber: 5g | Sugar: 32g | Vitamin A: 241IU | Vitamin C: 9mg | Calcium: 48mg | Iron: 2mg