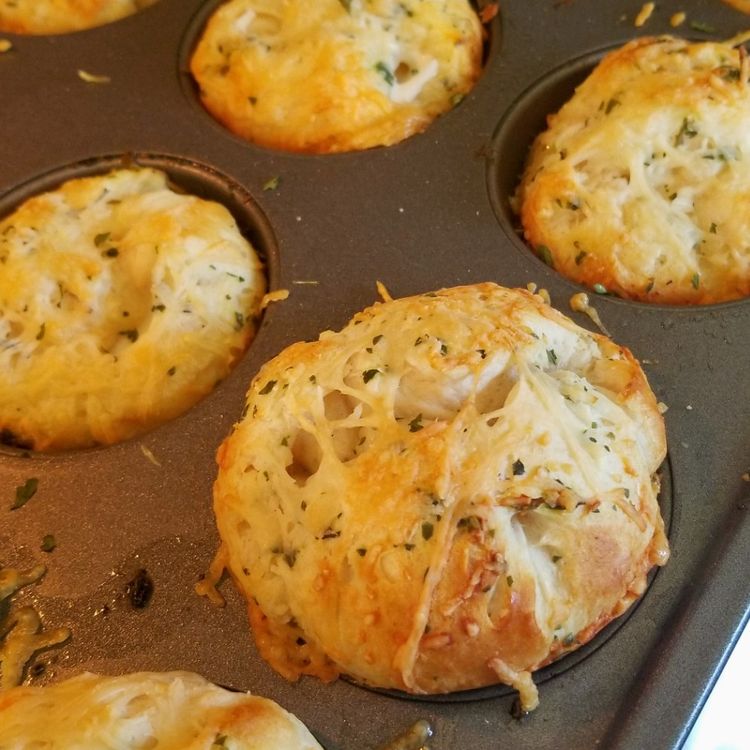 Mini garlic bread bites slathered in buttery goodness and stuffed with melted mozzarella cheesiness. So good and irresistible!
It's pretty epic.
And when you use refrigerated biscuits, this pretty much comes together in just 6 minutes, 22 seconds.
It's just that easy.
Not to mention that these are baked in a mini muffin pan, helping it keep its shape and it's cute mini size, which makes them even more irresistible.
Just be sure to eat them when they're hotttttt. That's when they're best.
INGREDIENTS:
1/4 cup unsalted butter, melted
3 cloves garlic, minced
1/2 teaspoon dried oregano
1/2 teaspoon dried basil
1/4 teaspoon salt
1 (16-ounce) tube refrigerated buttermilk biscuits
48 fresh mozzarella pearls, drained*
1/4 cup freshly grated Parmesan
2 tablespoons chopped fresh parsley leaves
DIRECTIONS:
Preheat oven to 425 degrees F. Lightly oil a 24-cup mini muffin tin or coat with nonstick spray.
In a small bowl, whisk together butter, garlic, oregano, basil and salt; set aside.
Halve each of the 8 biscuits, making 16 pieces. Working one at a time, use a rolling pin to flatten each piece to about 1/4-inch thickness. Add 3 mozzarella pearls to the center of each biscuit piece before rolling into a ball.
Place into the prepared muffin tin and brush each ball with half of the butter mixture; sprinkle with Parmesan. Place into oven and bake until golden brown, about 8-10 minutes.
Serve immediately, brushed with remaining butter mixture and garnished with parsley, if desired.