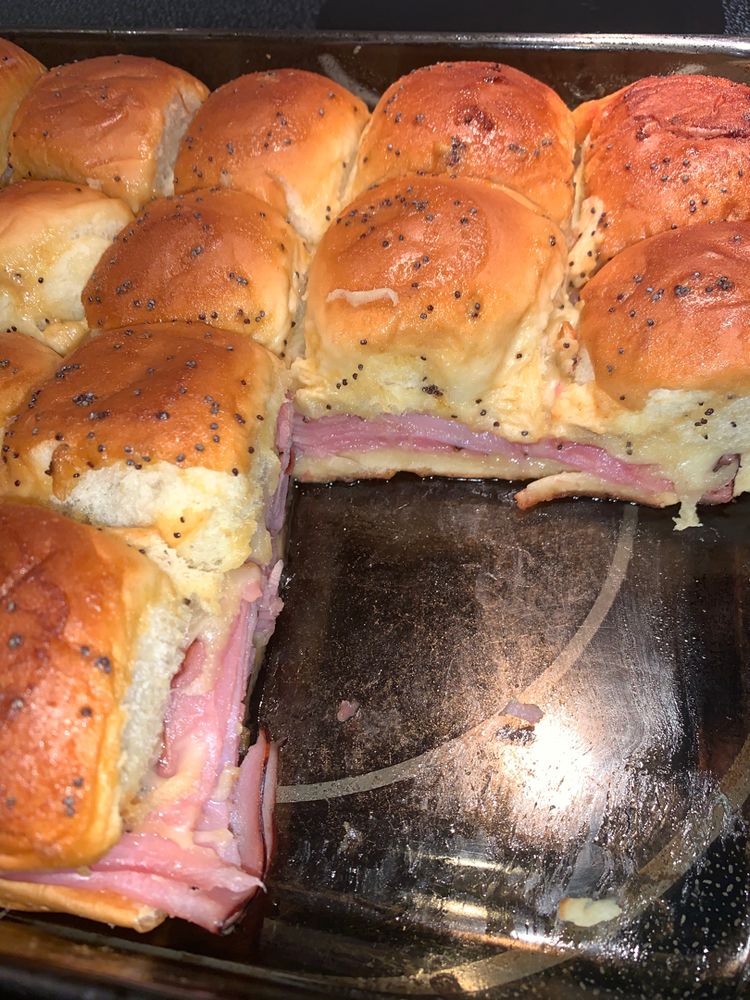 The perfect simple dinner, or an easy appetizer for your next party that's a sure fire hit! These little bites of deliciousness taste just like your favorite pizza and are ready twice as fast as your local pizzeria!
Tips for making Hawaiian Pizza Sliders
Buy pre-made rolls from the store. Get the ones that are attached so you can cut all the rolls in half at once. This makes prep super easy!
Fresh pineapple is delicious in this recipe, but you can cut down on the prep time by using canned pineapple tidbits.
You can use deli-style ham or leftover holiday ham for this recipe. If you're using holiday ham, be sure to cut up the ham slices into bite-sized pieces so the whole chunk doesn't come out of the slider when you're eating it. There's nothing more annoying than all the filling pulling out of your slider on the first bite.
Ingredients
12 dinner rolls or Hawaiian bread rolls
1/2 cup pizza sauce
1/4 teaspoon Italian seasoning
6 slices deli sliced black forest or honey ham
6 slices mozzarella cheese
1/2 cup fresh pineapple finely diced or canned pineapple tidbits, drained
1 tablespoon unsalted butter melted
Pinch of salt
Scant pinch of pepper
Instructions
Preheat your oven to 350 degrees F.
Unwrap the dinner rolls and use a bread knife to cut the rolls in half so all the tops are separated from the bottoms. Set the tops aside.
Place the bottoms of the rolls on a baking sheet. I like to line my baking sheet with a Silicon Baking Matbecause it makes clean up so quick and easy.
Spread the pizza sauce over the bottom half of the rolls, going all the way to the edges. Sprinkle the sauce with Italian seasoning.
Layer the ham slices over the pizza sauce. Depending on the size of your ham slices it could take more or less ham to cover all the rolls and get a good layer of meat. Use your best judgement on this.
Top the ham with slices of mozzarella cheese. (I got mine from the deli counter.)
Sprinkle the pineapple all over the cheese, being sure to spread it out for even coverage. You want some pineapple in every bite.
Place the roll tops over the pineapple, cut side towards the fruit.
Use a pastry brush to brush the tops of the rolls with melted butter. Sprinkle salt & pepper over the butter.
Bake for 15 minutes, or until the edges of the rolls are crusty and the cheese is melted.
Carefully remove from the oven. Cut the sliders apart with a sharp knife once they are cool enough to handle. Transfer to a serving plate and serve immediately.