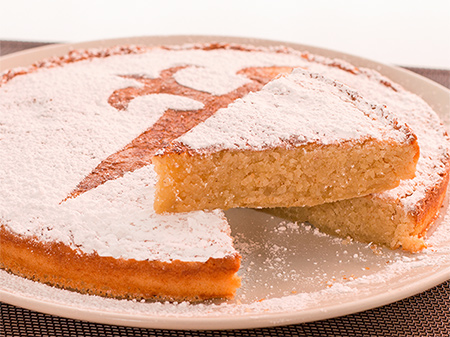 06- Tarta de Santiago
Tarta de Santiago is a sponge cake made with eggs, almonds and sugar, flavoured with lemon peel, grape marc, sweet wine or brandy. Optionally, the cake can have a base layer made of puff pastry or shortcrust pastry. The earliest reference to this cake dates from 1577, but the first recipe appeared rather late, around 1838.
The printing of the Cross of Saint James on the cake – made with powdered sugar – first appeared in 1924 in a cake shop in Santiago Compostela and has since become common practice. Since 2010, the cake has had a PGI status within Europe, and in traditional Galician pastries it is still prepared according to 19th century recipes.
The imprint of the Cross of Saint James on top of the cake-made with powdered sugar-appeared first in 1924 in a cake shop in Santiago Compostela and has since become standard practice. Since 2010, the cake holds a PGI status within Europe, and in traditional Galician cake shops it is still prepared according to 19th-century recipes.
05- Turrón
Turrón, or torró, as it is known in the Catalan dialect, is the Spanish version of the world-famous turrón. This sweet delicacy typically combines toasted nuts (usually almonds, but also other types of nuts such as hazelnuts or pistachios) with honey, sugar and beaten egg whites.
It is believed that turrón, a basic Christmas gift, originated in the early Middle Ages during the Moorish invasion of Spain. The name of this sweet is believed to be derived from the Catalan word torrar, which in turn comes from the Latin torrere, meaning to char or toast, an apparent reference to the use of toasted nuts.
Today there are many varieties of Spanish nougat, ranging from soft and chewy to hard and brittle, through those that are enhanced with flavors such as chocolate or coconut, or those made with egg yolks or without eggs. The two most popular varieties of Spanish nougat include the soft variety called soft nougat or nougat from Jijona and the hard variety called hard nougat or nougat from Alicante, from the respective Spanish cities of Jijona and Alicante.
This candy is often found among several gifts contained in a caga tío, a type of "caca trunk" that is an indispensable part of Spanish Christmas traditions.
04-Natillas
Custard is a traditional Spanish dessert made by boiling a combination of milk, egg yolks, sugar, flour, salt and vanilla. Although the vanilla-flavored variety is the most popular, custard can also be flavored with chocolate or nougat.
Dessert is usually sprinkled with cinnamon on top before serving to further enhance the flavors. It is believed that custard was invented by the nuns who prepared it in convents throughout Europe.
03- Quince Paste
Quince paste is an unusual fruit preserve often called quince in Spanish, or occasionally as queso de membrillo. This delicious product is made from quince fruit, similar in appearance to large pears or apples, with green and yellow skin, and hard, pale white, sour flesh.
When cooked, it has the unique characteristic of becoming slightly sweet and changing colour to pink. To create this delicious paste, they are cooked in water, pureed and mixed with sugar. When cooked, due to a significant pectin content, the mixture becomes a smooth but firm gelatinous creation with a slightly floral taste.
Canning is very popular in Spain, but is also native to many other regions of the world. It is commonly found in many European countries, North and Latin America, the Philippines, Australia and many Middle Eastern countries. As it is mainly prepared in flat and rectangular shapes, the paste is usually served in thin slices and combined with a variety of ingredients.
It is most commonly eaten alone, accompanied by cheese or crackers as a quick snack, or used as a filling or spread on toast and bread.
02-

Magdalenas
Magdalenas are sweet, light and fluffy Spanish cakes typically made with a combination of eggs, sugar, butter, flour, baking powder, milk and lemon peel or vanilla essence for flavor. Visually, the muffins are quite similar to the muffins.
In Spain, they are most commonly eaten at breakfast with a cup of coffee. In the past, these little treats were traditionally baked for parties and birthdays, but today they can be found all over Spain, in supermarkets and bakeries. Some say that the name of magdalenas is derived from the story of a young woman called Magdalena, who used to give these cakes to the pilgrims who went to Santiago de Compostela in Galicia.
01-

Rosquillas
Donuts are traditional Spanish fried doughnuts, characterized by their spongy texture and a hole in the middle. They are typically prepared during the Easter festivities. Although there are many varieties of doughnuts, the classic ones are prepared with a combination of eggs, sugar, milk, oil, lemon peel, flour, baking powder and aniseed, which gives these tasty doughnuts a unique flavor.
Another classic variety of doughnuts is made with sweet muscatel wine, and these doughnuts are known as wine doughnuts. After being fried, doughnuts are typically served as a sweet snack, topped with cinnamon sugar.
Interestingly, in Honduras, rosquillas are made with corn dough and cottage cheese, and they are not fried but baked in the oven.