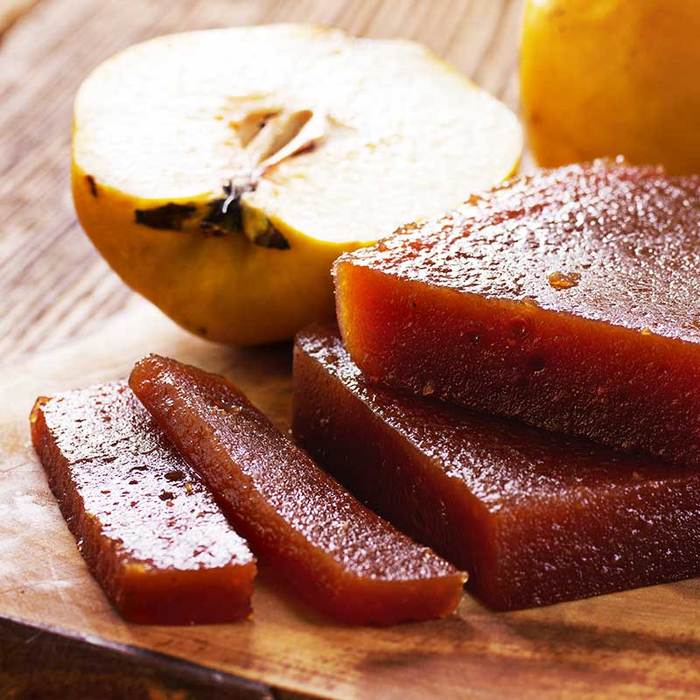 Dulce de membrillo or Carne de membrillo in Spanish, marmelada in Portuguese, codonyat in Catalan, cotognata in Italian, membrilyo in Tagalog is a sweet spread or dessert (quince paste, dulce de membrillo, dulce de membrillo or carne de membrillo).
Traditionally and predominantly from Portugal, Italy (exported when southern Italy was part of the Kingdom of Aragon) and Spain, quince jam is a hard, sticky, sweet, reddish paste made from quince fruit (Cydonia oblonga). Dulce de membrillo is also very popular in America, in Brazil (as marmelade), Argentina, Chile, Peru, Mexico and Uruguay, and in Israel, as a typical Sephardic dish.
Dulce de membrillo is made of quince fruit, sugar and water, cooked over a low heat. It is sweet and slightly sour, and similar in consistency, taste and use to guava cheese or guava paste. It is sold in squares or blocks, then cut into thin slices and spread on toast or sandwiches, alone or with cheese. It is often served for breakfast or as a snack, with Manchego or Mató cheese. It is very often used to fill cakes. Guava cheese, although it does not contain quince fruit, is also called membrilyo in the Philippines, a former Spanish colony, where it is part of the traditional Christmas Eve ensemble.
Equipment
Food processor or blender
Ingredients
Aus Metric – US Imperial
3 quinces
½ lemon , lemon juice only
2 cups of sugar, approximately
1 pinch of salt
Instructions
Peel and core the quince. Cut into large wedges.

Place fruit in a medium-sized saucepan and cover with water. Add lemon juice.

Bring water to a boil, and cook fruit until very soft. Drain and let cool for 5 minutes.

Process fruit in a food processor or blender until smooth, like applesauce.

Measure fruit – you should have around 2 cups – and place in a heavy-bottomed pot. Measure ¾ of that amount in sugar (so if you have 2 cups, add 1½ cups sugar), and stir sugar into the fruit.

Bring sugar and fruit to a low boil and simmer, stirring frequently, on low heat.

Cook slowly, keeping the mixture barely at a boil and stirring often to prevent burning, until mixture thickens.

Continue to cook over low heat, stirring constantly, until mixture is a thick paste that stays together in a ball. The mixture should seem almost dry, and stretchy. The fruit will change colour and become a bright orange-red.

Pour into a lightly oiled dish and let cool. Slice when firm. Fruit paste will keep for several weeks, covered, in the refrigerator.
Nutrition
Serving: 
1
serving
 | 
Calories: 
484
kcal
 | 
Carbohydrates: 
126
g
 | 
Protein: 
0
g
 | 
Fat: 
0
g
 | 
Saturated Fat: 
0
g
 | 
Cholesterol: 
0
mg
 | 
Sodium: 
17
mg
 | 
Potassium: 
333
mg
 | 
Fiber: 
3
g
 | 
Sugar: 
99
g
 | 
Vitamin A: 
70
IU
 | 
Vitamin C: 
27.7
mg
 | 
Calcium: 
19
mg
 | 
Iron: 
1.2
mg