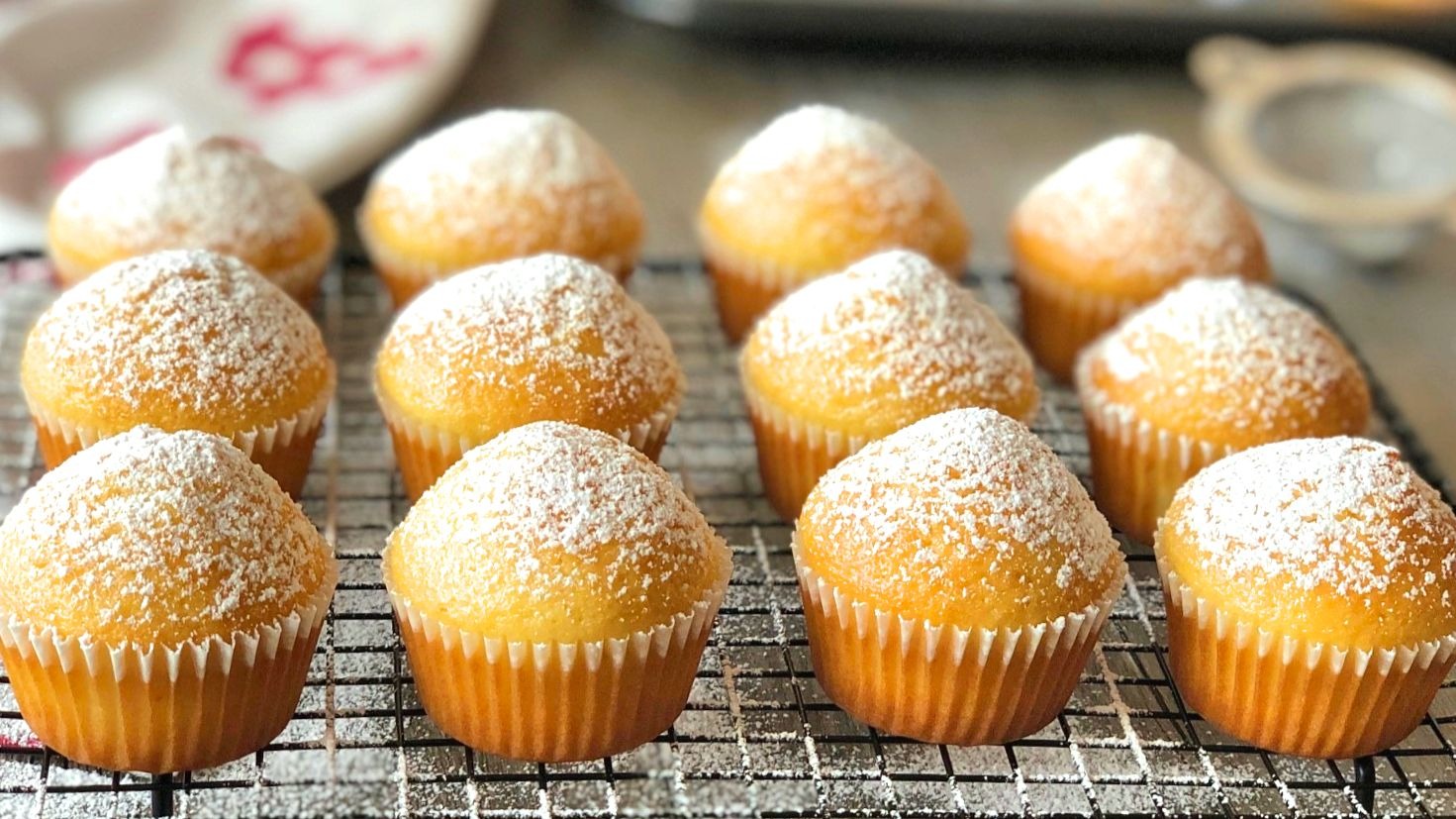 We really wanted to publish our cupcake recipe. They are already perfect for a breakfast or afternoon snack, but above all to be able to transport some homemade candy, since thanks to their individual format, they are perfect for picnic days, excursions, the beach… You can take them with you everywhere.
We are going to explain how to make homemade and spongy cupcakes with the most classic and traditional recipe, the one that incorporates extra virgin olive oil and the rest of ingredients, always simple and basic, such as flour, eggs, milk, sugar and a touch of lemon, which suits them perfectly. You will see that they are left with their crispy crust on the surface, but inside they are spongy and moist, perfect!
The truth is that I haven't baked any cupcakes or anything like that for a long time simply because of the lack of proper kitchenware. To make muffins, we have two options. The one I've used in this recipe is the paper capsules and a rigid mold that prevents the capsules from opening sideways due to the weight of the dough and deforming, but you can also use reusable silicone capsules, both systems give very good results and the cupcakes acquire their peculiar "top" very high.
The truth is that before I started with the blog I wasn't at all fond of sweet preparations, but by "forcing" me to introduce sweet recipes I discovered a whole world, and that has nothing to do with industrial desserts, and above all being able to control the amount of sugar and fat in each preparation is a real pleasure. The fact is that there is no longer a week in which I do not prepare some sweet novelty at home, but due to my "anti-sweet" past I hardly have any good kitchenware.
Ingredients for making homemade, fluffy cupcakes. Traditional recipe (24 cupcakes):
350 gr of wheat flour.
100 ml of extra virgin olive oil
100 ml of seed or sunflower oil.
250 ml of milk.
3 eggs.
200 gr of white sugar.
1 pinch of salt (the one you can take with two fingers).
1 sachet of chemical yeast of 16 g (we usually find it as "Royal yeast").
The grated rind of 1/2 lemon.
Preparation, how to make homemade, fluffy cupcakes Traditional recipe:
1-In a large bowl put the eggs and sugar and beat them vigorously with manual or electric sticks until the mixture is white and the sugar is completely dissolved.
2-Grate the lemon peel and add it to the mixture together with the salt.
3-Gradually add the oil, both olive and seed oil, and mix it so that it integrates well.
4-Then pour in the milk, also little by little, and mix.
5-Add the flour and the yeast, sifting them through a sieve so that they do not become lumpy or clumped. Beat everything again until there are no lumps.
6-Now it is very important that you respect a certain rest of the mass. You can actually directly prepare the dough and put it in the moulds and in the oven, but to get a perfectly spongy finish you should ideally cover the bowl with film and put it in the fridge. If you want you can leave the dough ready from the night before, but really with 30 minutes (which is what we have left this time the cupcakes and you see how they have come out) will be enough.
7-Preheat the oven to 200 ºC.
8-Meanwhile, put the paper cups in the muffin tin or use silicone cups directly on a baking tray and pour the dough into them, so that they only take up 3/4 of the tin so that the dough doesn't spill out and tends to that top crust we are looking for.
9-It's optional, but I recommend sprinkling a little white sugar on top of the dough so that it forms the characteristic sugar crust that gives it the definitive traditional and artisan touch. Don't overdo it, though, just a little bit (whatever you can pinch with two fingers) because if you pour too much you can ruin the dough's rise due to the weight.
10-When the oven is at 200ºC, place the baking tin or tray with the dough in it at mid-height and bake for 15 to 20 minutes. Remember to use only the top and bottom heating elements, no central fan, because if your oven does not distribute the heat properly, each cupcake will be higher on one side than on the other. And of course, don't even think about opening the oven door in the middle of the baking process because it will stop rising.
11-They will be ready when they start to brown slightly, and be aware that it may take another minute before they start to get too dark. If you have any doubts, try the toothpick test: prick a cupcake with a toothpick, and if it comes out without any stuck pieces, they are ready. If not, leave them for a few more minutes.
12- Take the pan out of the oven and let it stand for 5 minutes.
13- Take the cupcakes and put them on a rack to finish cooling.
Time: 40 minutes (plus at least 30 minutes of rest for the dough)
Difficulty: easy
Serve and taste:
Once the muffins are completely cold, they're ready to be tasted, although if you can't wait, a warm muffin is also… scandalous!
In the unlikely event that you have any left over, you can keep them in a tightly sealed plastic bag, so that they stay juicy (provided that they are completely cold). Take them with a bit of chocolate, accompanying a coffee or just savouring them without anything else, enjoying their unique and delicious texture 😛