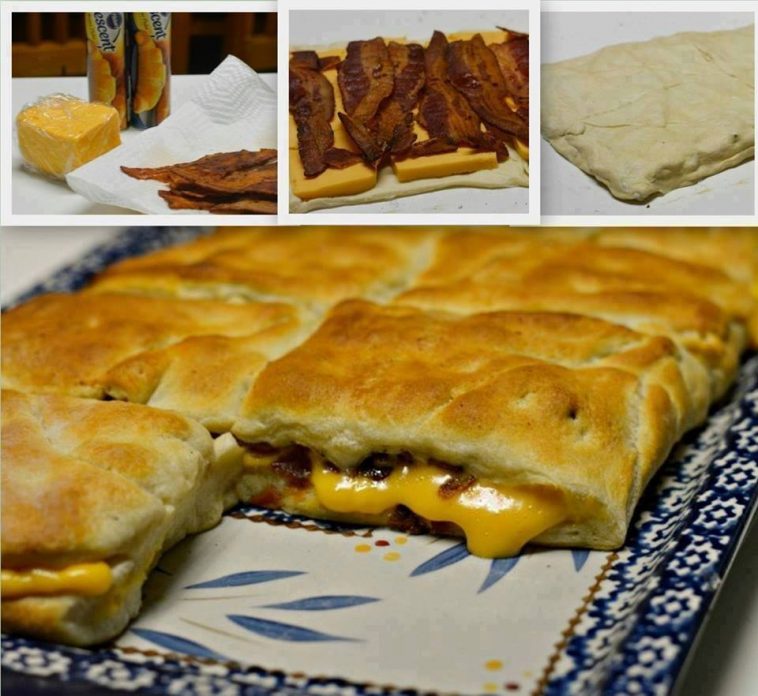 These were very good . I might suggest that when a recipe calls for crumbled bacon, that it is much easier to slice the bacon into small pieces before you cook them .
great recipe – I added a small container of cream cheese to the mixture before stuffing the mushrooms. I also used real bacon bits which saved time. They were a hit and the first appetizer finished off.
This recipe was so easy and everybody absolutely loved them. I can't wait to make them again. Make sure the bacon isn't too crispy.
Another favorite Apply.I make these year round.I cheated and used bacon bits last time.Still good.
INGREDIENTS :
2 cans of crescent rolls (you can use biscuits too)
Cheese (Whatever type you like)
12oz or 16oz package of bacon, cooked
flour for dusting (optional)
Directions :
Preheat your oven to 375 degrees. Spray a baking sheet with non-stick cooking spray. Lightly flour your work surface.
Unroll one can of crescent rolls (or 1/2 can of biscuits) on your work surface. Using your hands or a rolling pin, press the seams together and lightly press & stretch a little into a nice rectangle.
Add a layer of cheese
Add a layer of bacon.
Unroll the remaining can of crescent rolls on top & press all the seems together both on top and all around.
Using a pizza cutter or a knife (I prefer a pizza cutter personally) slice into squares.
Place on a Baking Sheet so the squares are touching.
Bake for 12-15 minutes, or until the top of the crescent rolls are lightly browned. Remove from the oven & cool on a wire rack for 3-5 minutes.
Enjoy!