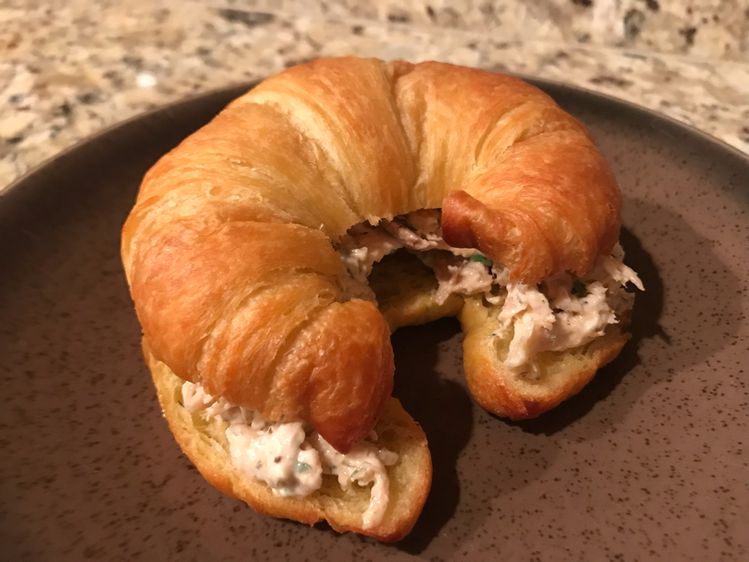 Of all the summer salads, a classic chicken salad recipe is always a favorite at a picnic, a barbecue, or an office potluck! Just a few ingredients can be transformed into a cold, creamy salad or filling for a homemade chicken salad sandwich or wrap!
Keep this easy recipe on hand for last-minute sandwich prep when last-minute invitations come up! Serve this summer with a side of Italian pasta salad and crunchy grilled corn on the cob!
Use leftovers from last night's dinner or leftover rotisserie chicken or grilled chicken.
To Make Chicken for chicken salad I like to use either poached chicken or baked chicken breasts or thighs.
You can use canned chicken in a pinch but of course fresh is best when possible.
Ensure the chicken is cooled and shred or chop the chicken into bite sized pieces.
Quick Chicken Salad
•2 ( 12.5 oz) cans of chicken (or 3 cups diced cooked chicken)
•3/4 cup light mayonnaise
•1 cup red grapes, halved
•1 green onion, diced
•1 stalk celery, diced
•1/2 cup diced apple
•salt and pepper to taste
•pecans or cashews, optional
1.In a bowl, combine the chicken, mayo, grapes, green onion, celery, apple, salt, and pepper. Combine until well blended.
2.Serve on rolls, bread, or croissants sprinkle with some cashews or pecans. This can also be served on a lettuce leaf.