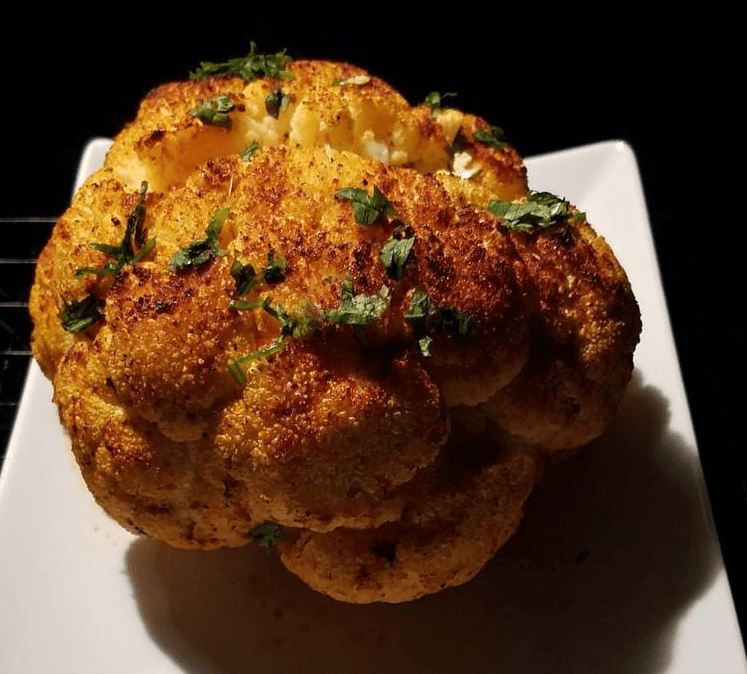 It is an excellent method. I melted the butter in a microwave-safe bowl with about a teaspoon of olive oil and some chopped garlic. My cauliflower head was quite small, so I mixed it with the melted butter and put it on a baking sheet lined with parchment paper. It was delicious and cleaning it was a breeze. I have a confession….. I ate it all myself!
Holy cow! I love roasted cauliflower anyway, using the usual olive oil. The butter IS what is unusual in this recipe and it is the best cauliflower I have ever eaten. Of course, butter is less healthy, but damn it, it's not that much. I ate it like candy, even after it had cooled down. I loved it! Thank you Chef John!
Ingredients
1 cauliflower head
Fresh thyme
2 bay leaves
4 cups (1l) vegetable or chicken broth, more or less, depending on the size of the cauliflower
1/3 cup (70)g melted butter
Fresh cracked pepper
Directions
1. Preheat your oven to 200°C (400ºF). Cut off the bottom of the cauliflower and remove all leaves and stems, but do not break them. Rinse quickly and pat dry.
2. Place the whole cauliflower in a saucepan and cover with broth, add fresh thyme and bay leaf. Bring to the boil and simmer for 12 minutes.
3. Drain and transfer the cauliflower head to a cast iron or ovenproof pan. Pour some cooking stock over the cauliflower and sprinkle the melted butter on top. Sprinkle with thyme and fresh pepper.
4. Roast in the oven for 10-15 minutes, depending on the size of your cauliflower, until golden brown. Baste occasionally with the cooking juices. Check with a knife, if the cauliflower slips easily, it is cooked. You can grill it for another 2 minutes if you want to give it a little more color, but keep an eye on it so that it doesn't burn.
5. Remove from the oven and sprinkle with fresh thyme. Cut into slices and serve with an extra drizzle of buttered cooking juices.
Source: allrecipes.com