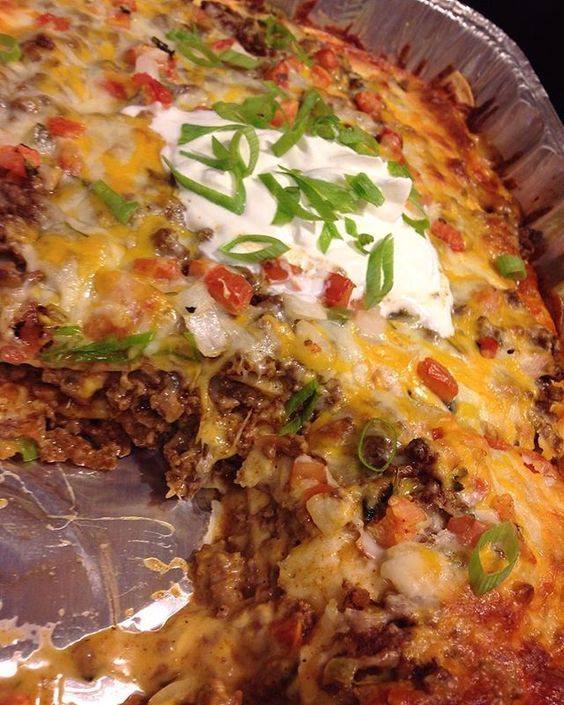 All Reviews for 

Taco Casserole: 
As always I read the most helpful reviews and then modify the recipe with the suggestions I like. This was really good with some modifications of my own. First I used Tostitos Hint of Lime corn chips. I crushed some in the bottom of the casserole dish and covered it with most of a can of nonfat refried beans to make a sort of crust. Then I put in a layer of chopped cilantro – this really added to the flavor and color. I fried the onion along with the beef drained the fat then added the taco seas. with water per packet directions. I replaced the tomato soup with a can of Rotel. I also added a can of pinto beans can of corn and small can of chopped green chilies. This way it was really colorful but it made a ton of filling. I'll be using what didn't fit into the casserole as "taco soup". I should have drained the cans first because it came out really soupy and I had to strain it anyway before I put it in the casserole. I left the chips off the top until serving. Baked it for only about 20 min. Topped with more crushed chips and sour cream and Ole'! Husband really liked it and I had two servings.
I did season the ground beef with salt and pepper. I also used Ro-tel instead of the diced tomatoes. The can is smaller so I added some salsa. I also added corn and drained and rinsed black beans. I always add lime juice lime zest sea salt chopped cilantro and cumin to sour cream to make a sour cream dressing so this was excellent on top of the servings! My 15 year old loves this! I did top with Mexiblend cheese baked and then topped with the crushed tortillas and a little bit more cheese and baked about 8 minutes. will make it again soon!
I rated this recipe 5 stars however I made a few changes and added a couple of things. I'm sure someone will get angry because I didn't make it as described however that's the value of reading the reviews and customizing the recipe. I didn't use tomato soup or the onions. I cooked the ground beef just like the taco seasoning package suggested, then added 1 10 oz can of Rotel diced tomatoes and green chilis, chopped up 10 fresh cherry tomatoes, chopped cilantro and corn. I tried to keep it mild for my children but flavorful for my wife and I. Also, I put a can of re-fried beans on the bottom of the baking dish followed by a layer of cheese. I put another layer of cheese on top, baked for 20 minutes and served with hot tortilla chips on top, lettuce, fresh tomatoes and olives. Both kids actually had two helpings. It tasted like an upside down tostada. Definitely added to the dinner rotation.
Click 'Next Page (>)' to keep reading and don't forget to SHARE with your Facebook friends