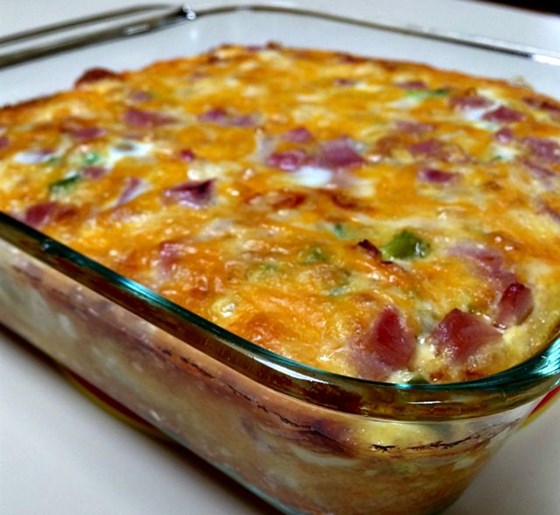 Quick and easy breakfast casserole.
I've made this exact recipe for years. It's always perfect and delicious. The original recipe was designed as a make ahead. That may explain why people had trouble with it not being firm enough.
We loved it! After reading reviews I added a tablespoon of biscuit mix so it would firm up better. I learned this trick from a quiche recipe and it works great. Will make again maybe adding onions and other veggies.
Stop giving negative reviews b/c pictures seem to have extra ingredients. The creator of the recipe can't help it if people modify their recipe and submit the photo, guys. And the printing glitch isn't their fault, either. STOP.
I LOVE recipe. I've been making it for at least 5 years. It's always a huge hit. I've made it with ham, turkey ham, and no meat at all (but I add a bunch of chopped spring onions.)
INGREDIENTS :
8 eaches frozen hash brown patties
4 cups shredded Cheddar cheese
1 pound cooked ham, cut into cubes
7 large eggs eggs
1 cup milk
½ teaspoon salt
½ teaspoon ground mustard
INSTRUCTIONS :
Step 1: Ready the oven. Preheat it to 350 degrees F or 175 degrees C.
Step 2: Apply cooking spray in a 9×13-inch baking dish.
Step 3: On the prepared baking dish, place the hash brown patties and sprinkle over the cheddar cheese and ham.
Step 4: In a large mixing bowl, add in the eggs, milk, salt, and mustard. With a whisk beat until well blended.
Step 5: Pour in the mixture over the ham.
Step 6: Using an aluminum foil, cover the baking dish.
Step 7: Place inside the preheated oven and bake for 1 hour or until the sides are slightly toasted and the cheese is cooked through.
Step 8: Remove the foil and bake for another 15 minutes or until the color turns golden brown and a toothpick inserted in the middle of the casserole comes out clean.
Step 9: Remove from the oven and let it sit on a wire rack to cool for at least 5 minutes.
Step 10: Serve and enjoy!