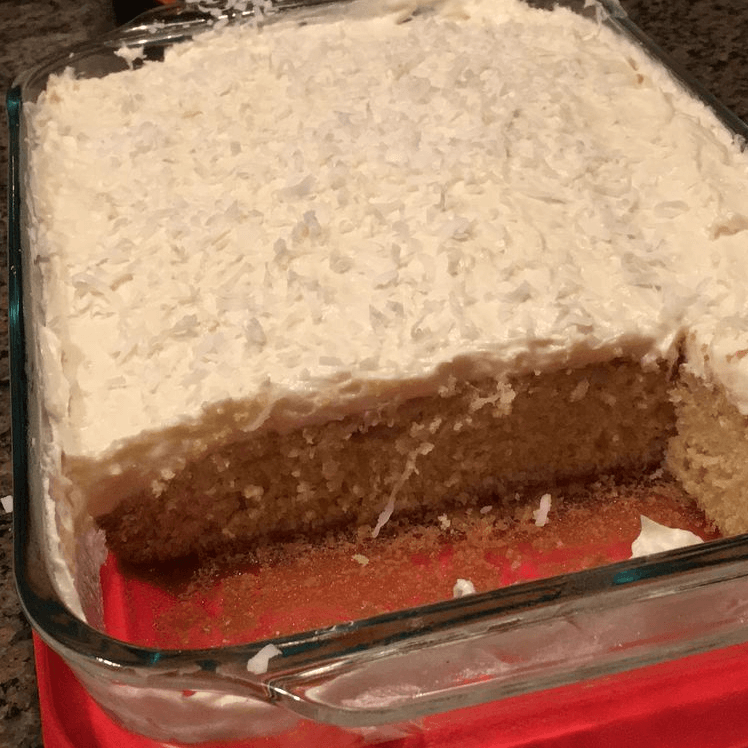 You all know that I am no stranger to a sheet cake. In fact, I've shared quite a few with you. Chocolate buttermilk cake, easy caramel cake, the best strawberry cake and my hummingbird cake are some of my favourites. The truth is that sheet cakes are so much easier to make without stacking the cakes and they taste just as good. Don't get me wrong, a beautifully decorated sheet cake has its place, but you know me… and you know I like it easy.
This version takes advantage of a canned cake mix (GASP!) and uses a reduced version of the coconut cake frosting found in my cookbook. Now, if you're feeling particularly adventurous, you can use a white cake mix scratch recipe and simply add the coconut extract and coconut. But I promise you that if you use a canned mix, no one will know.
The result is this tender, dreamy coconut cake with a delicate icing that is not too sweet because of the cream cheese it contains. In fact, I think I prefer this one to the tiered cake… but don't tell anyone. 🙂 Have fun!
Ingredients :
1 Duncan Hines White Cake Mix
3 eggs
1 cup of milk
1/2 cup of vegetable oil
1 small box of vanilla (or almond) pudding (I used vanilla)
1 teaspoon of vanilla (or almond) extract (I used vanilla)
Itinerary :
Mix all the ingredients together until smooth and creamy. Pour into a greased and floured 9 x 13 pan. (I used Baker's Joy.) Bake at 350 for 32-35 minutes or until toothpick is clean.
1 can of coconut cream
1 can of sweetened condensed milk
Mix these two ingredients together. Drill holes in the hot cake and slowly pour this mixture over the cake. Let the cake cool and add the next one to the icing:
An 8 oz. container of Extra Creamy Cool Whip
12 oz. frozen grated coconut (Sprinkle on top of Cool Whip)
Refrigerate at least 8 hours before serving.
source: Allrecipes.com