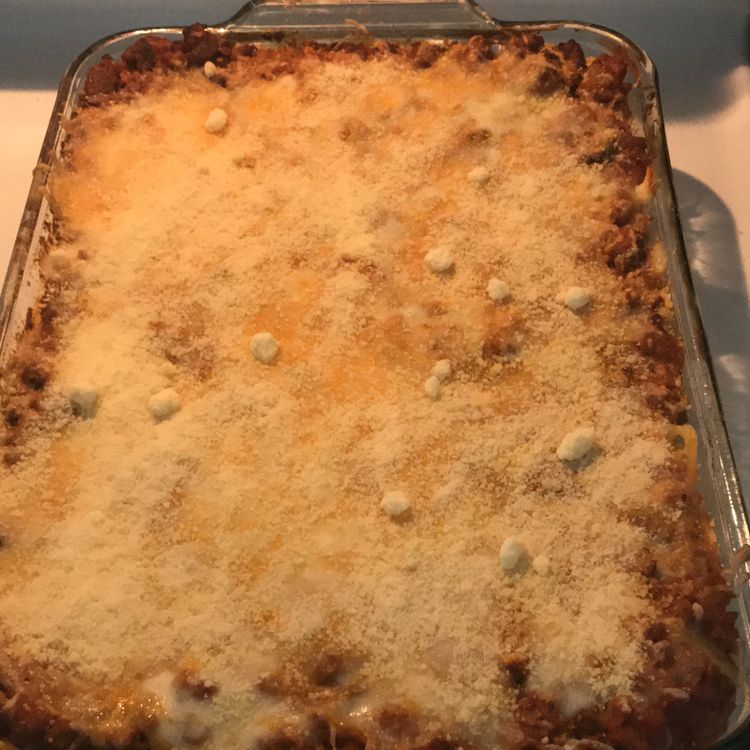 The Ultimate Baked Spaghetti – cheesy spaghetti topped with Italian seasoned cream cheese, meat sauce and mozzarella cheese – SOOOO good! Makes a great freezer meal too! We ate this two days in a row!
The Ultimate Baked Spaghetti
I called this The Ultimate Baked Spaghetti because I combined two of my favorite baked spaghetti recipes and made one great recipe. The "ultimate" if you will. This was crazy good. I wanted to eat the whole pan! We ate this for dinner and again lunch the next day.
This Ultimate Baked Spaghetti is very easy to make. Start the spaghetti cooking. While the spaghetti is cooking, whisk together the eggs, parmesan, and melted butter. Toss that with the cooked spaghetti. Top the spaghetti mixture with a combination of cream cheese, sour cream, garlic, and Italian seasoning. Finally, top everything with some cooked Italian sausage or ground beef and jarred spaghetti sauce. You can make it in advance and refrigerate until ready to bake.
Ingredients:
16- oz thin spaghetti
2 eggs
1/3 cup grated parmesan cheese
5 Tbsp butter melted
1 tsp Italian seasoning
1 clove garlic minced
1 (8-oz) package cream cheese softened
1 cup sour cream
1 lb Italian sausage or hamburger cooked
1 (24-oz) jar spaghetti sauce
2 cups shredded mozzarella cheese
Instructions:
Preheat oven to 350ºF. Lightly spray a 9×13-inch pan with cooking spray. Set aside.
Cook spaghetti according to package directions. Drain. Whisk together eggs, parmesan cheese, and melted butter. Toss with pasta. Place in prepared pan.
Combine Italian seasoning, garlic, cream cheese, and sour cream. Spread over pasta.
Combined cooked sausage or hamburger and spaghetti sauce. Spread over cream cheese mixture. Top with 2 cups shredded mozzarella cheese.
Bake for 45 minutes, or until cheese is melted and bubbly.