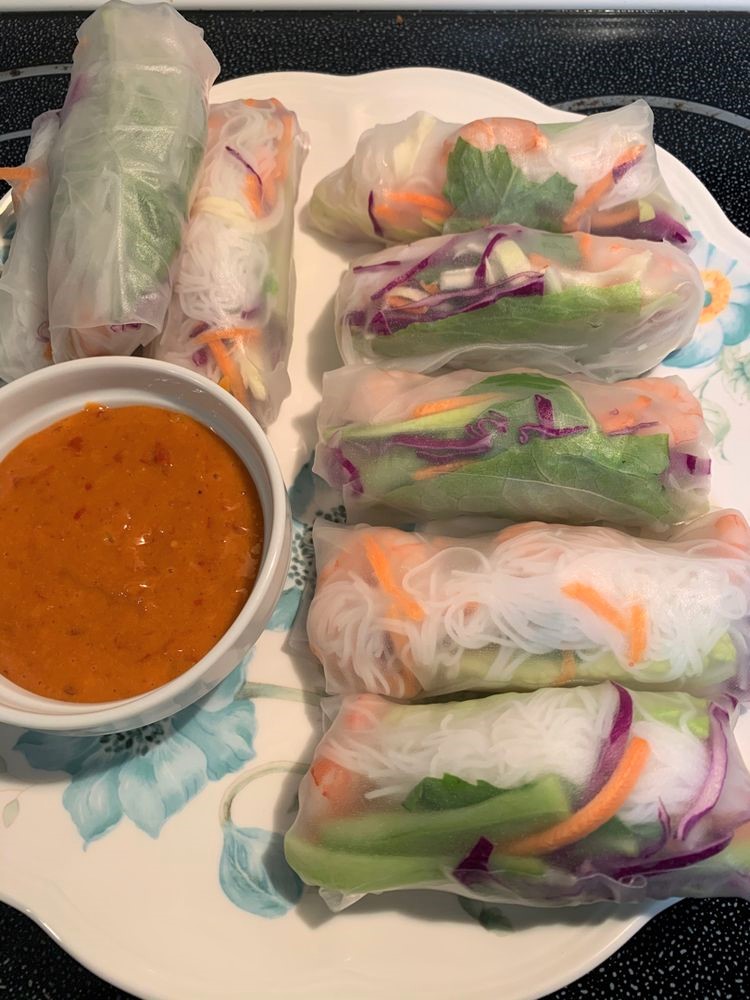 Thai Spring Rolls With Homemade Peanut Sauce is an incredible fresh spring roll. Whip these up in no time for an easy lunch or dinner option. The shrimp and peanut sauce pair perfectly together.
8 (8-inch diameter) sheets rice paper
16 small shrimp, cleaned and cooked
2 cups shredded lettuce
1 cup Vermicelli noodles
1 cup bean sprouts
6 shiitake mushrooms. thinly sliced
1/2 cup thai basil leaves, roughly chopped
Peanut Sauce Ingredients:
1/2 cup creamy peanut butter
1/2 cup unsweetened coconut milk
1 tsp. Minced garlic
1 tsp ginger paste
1/2 Tbsp soy sauce
1/4 cup fresh lime juice
2 tsp. fish sauce
2 Tbsp. brown sugar
Instructions
First you will want to cook your vermicelli noodles as directed on their package.
Once noodles are cooked and strained, you will now bring a pot of water to warm heat, on medium heat. Turn your water off once the water is nice and warm.
Take your rice paper and dip it into the warm water, and submerge it until it becomes soft and pliable.
Lay out your rice paper on a cutting board, and add a portion of shrimp to each roll. I did 2-3 per roll.
Now add on your lettuce, mushrooms, basil, noodles, to the bottom third of your rice paper. Don't overstuff.
Now starting at the bottom, begin to roll the rice paper. Tuck in the sides and roll over the filling like you would a burrito.
Repeat the process until all your shrimp spring rolls are complete.
In a bowl whisk up your homemade peanut sauce if desired and use that to dip your fresh spring rolls in.