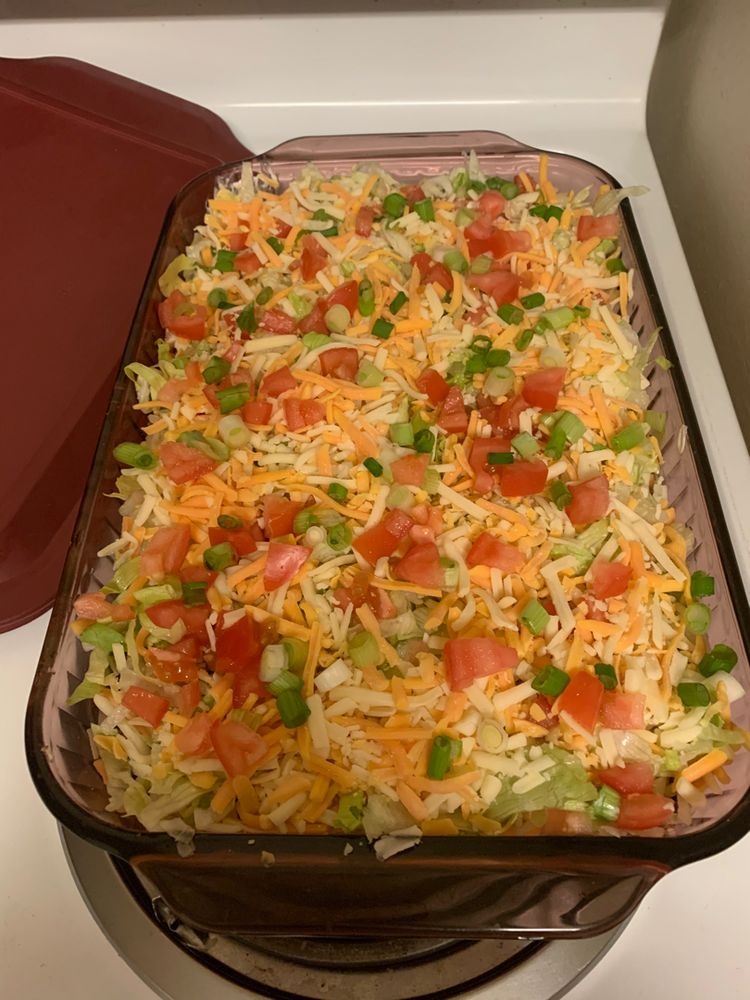 Taco dip with meat is perfect served as a salad topping or for dipping keto tortilla chips. It can be made with all ground beef or with a layer of low carb black soy beans.
I've had some unusual cravings for a taco salad lately. The cafeteria at work used to sell the ones that come in the tortilla bowls. But these days, I'd just add some low carb tortilla chips and skip the bowl.
I think my whole taco craving started after seeing a 7-layer taco dip with meat and refried beans at my sister's house during a birthday party for her son. Although the dip looked very tempting, I knew I better stay away since it had regular refried beans in it.
This past weekend, I finally got around to making a taco dip recipe with meat and refried black soy beans. I didn't have time to make make my own low carb tortillas for chips, so I just ate this taco dip on some shredded lettuce.
Ingredients
Refried Soy Beans (Optional):
15 ounces black soy beans See Note
1 tablespoon olive oil extra virgin
1/2 teaspoon salt
1 1/2 teaspoons minced garlic
1 1/2 teaspoons chili powder
1 tablespoon unsweetened almond milk or coconut milk
Taco Seasoned Ground Beef:
1 1/2 pounds ground beef See Note
1 small onion diced
3 cloves garlic minced
1 tablespoon chili powder
1 teaspoon cumin
1/2 teaspoon garlic powder
1/2 teaspoon onion powder
1/4 teaspoon crushed red pepper flakes
1/2 teaspoon paprika
1 1/2 teaspoons sea salt
1 teaspoon black pepper
Additional Toppings:
4 ounces sour cream
4 ounces cream cheese softened
8 ounces guacamole
2 medium tomatoes diced
8 ounces cheddar cheese shredded
3.8 ounce can sliced black olives optional
US Customary – Metric
Instructions
Refried Soy Beans (if using):
Drain can of soy bean and rinse beans.
Place beans in blender or food processor and process until smooth. Blend in remaining ingredients.
Heat olive oil in medium skillet. Cook bean mixture until softened.
Taco Seasoned Ground Beef:
In large skillet, brown ground beef with onion and garlic.
Drain off an fat, then mix in remaining seasonings.
Layers:
In small bowl combine sour cream and cream cheese. Set aside.
In 13×9 baking pan, layer in the following order: refried soy beans, taco seasoned ground beef, sour cream mixture, guacamole, tomatoes, and shredded cheese.
Top with sliced black olives if desired.
Serve on top of lettuce for salad or with low carb tortilla chips as a dip.
Notes
If omitting the bean layer, use another 0.5 to 1 pound of ground beef with additional seasonings.