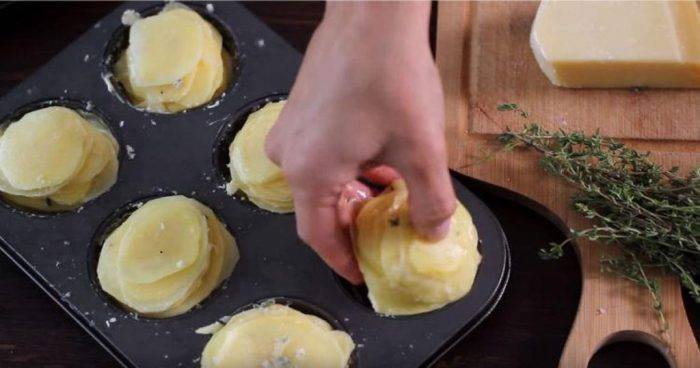 Muffin pans are actually a versatile kitchen tool! This recipe for Parmesan Potatoes in a bag can feed 4 to 6 people and is the perfect complement to any meal. You will need 8 to 10 potatoes, cut into 1.5 cm slices, 3 teaspoons of butter, 2 teaspoons of Parmesan, 1 teaspoon of garlic powder, 1 teaspoon of thyme leaves, salt and pepper.
Preheat the oven to 3500. Melt the butter and a little butter to cover the muffin tin. Place the potato slices in a large bowl and add the parmesan, garlic, thyme and remaining butter. Toss to coat. Arrange potatoes in stacks in the muffin pan. Sprinkle each stack with salt and pepper. Place the muffin pan in the oven and bake for 55-60 minutes or until the edges are golden brown and the centre is tender.
For this particular recipe, you will need the following ingredients (serves 4 to 6) :
3 teaspoons butter
2 teaspoons Parmesan cheese
1 teaspoon garlic powder
1 teaspoon thyme leaves
salt
To Find Out All The Delicious Ingredients And The Step By Step Directions To Follow, Please Head On Over To The Next Page.