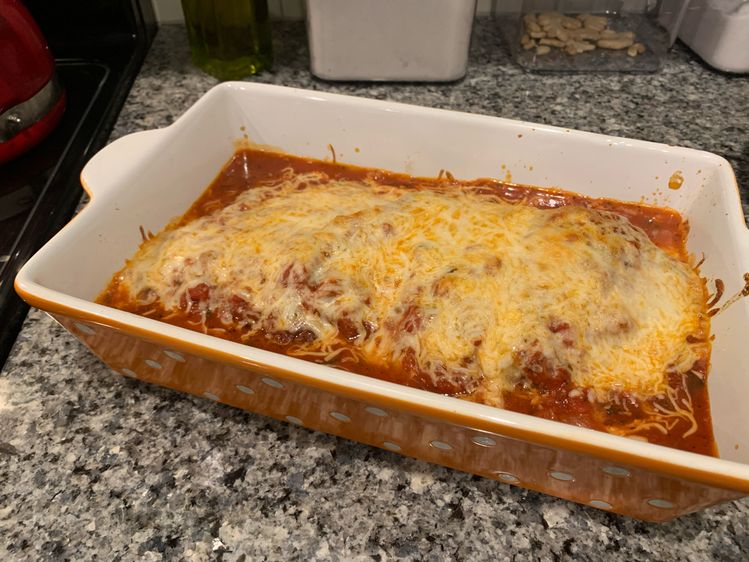 Visiting family is such a bitter sweet experience for me. It is so amazing to spend time with those I love most, but I suffer from such depression after it is over. After two weeks visiting my parents in Ohio, we are headed back home to Minnesota. It will be tough on me, but it is so heartbreaking to see how tough it is on my kids. They have had two weeks packed with wonderful memories that I hope will get them through until next summer.
If you are blessed to have family close by (and by that I mean under a 2 hour drive), be grateful and spend more time with them. Those of us who only get to see family a couple times a year are very jealous!!!
Now that I am back home, my children expect me to cook them meals. I am always on the hunt for a great chicken bake recipes and this is one! You won't be disappointed! It is delicious and even better the next day as leftovers. I make two pans at a time because we love this parmesan chicken so much.
Ingredients
Ingredient Checklist
2 tablespoons olive oil
2 cloves garlic, crushed and finely chopped
¼ teaspoon crushed red pepper flakes, or to taste
6 breast half, bone and skin removed (blank)s skinless, boneless chicken breast halves
2 cups prepared marinara sauce
¼ cup chopped fresh basil
1 (8 ounce) package shredded mozzarella cheese, divided
½ cup grated Parmesan cheese, divided
1 (5 ounce) package garlic croutons
Directions
Instructions Checklist
Step 1
Preheat oven to 350 degrees F (175 degrees C).
Step 2
Coat the bottom of a 9×13 inch casserole dish with olive oil, and sprinkle with garlic and hot red pepper flakes.
Step 3
Arrange the chicken breasts in bottom of the dish, and pour marinara sauce over chicken. Sprinkle basil over marinara sauce, and top with half the mozzarella cheese, followed by half the Parmesan cheese. Sprinkle on the croutons, then top with the remaining mozzarella cheese and remaining Parmesan cheese.
Step 4
Bake in preheated oven until cheese and croutons are golden brown and the chicken is no longer pink inside, about 35 minutes to an hour, depending on the shape and thickness of your chicken breasts. An instant-read thermometer inserted into the thickest part of a chicken breast should read at least 160 degrees F (70 degrees C).
Chef's Notes:
Use more marinara sauce if you like. And fake Parmesan will not taste the same…go buy some real Parmigiano-Reggiano!
Nutrition Facts
Per Serving:
477 calories; protein 40.3g 81% DV; carbohydrates 28g 9% DV; fat 21.7g 33% DV; cholesterol 100.2mg 33% DV; sodium 1022.4mg 41% DV.